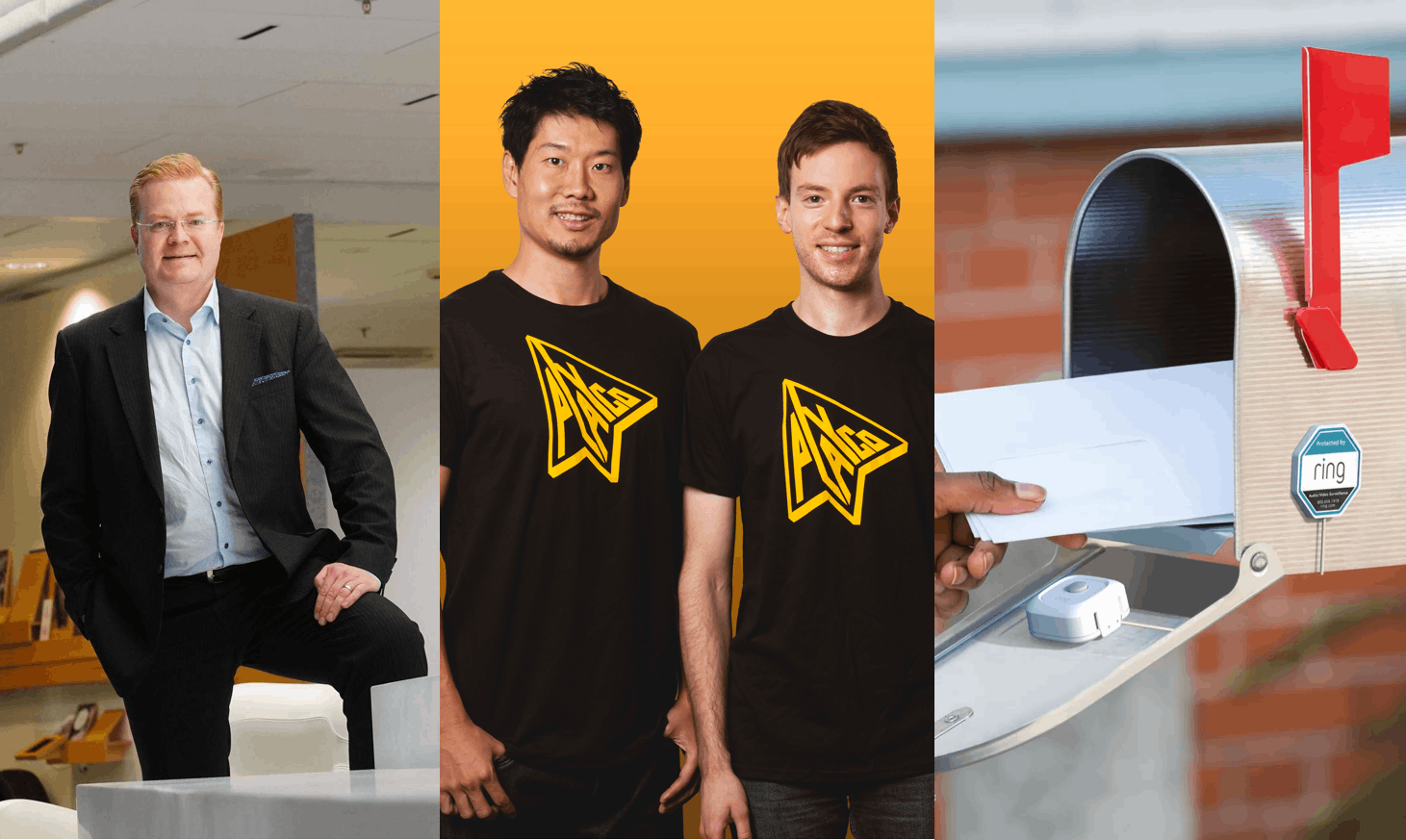 Nokia hits 100 5G deals — Game streaming startup Playco lands $100M in series A funding — Amazon's Ring debuts new mailbox sensor
It's been a relatively quiet week in industry news––in stark contrast to the "Trump caught Covid" bombshell (as well as literal bombshells, in the part of the world where I'm currently writing this). But maybe the chaos is just making it seem calm by comparison?
In either case, this roundup will be a succinct one. Let's get into it before even more catastrophic headlines grace our newsfeeds…
5G
Last week's notable name in 5G developments was Nokia, which — after a rough few months of losing out on major contracts with Chinese operators this past year — has secured 100 5G deals. This puts them in the "triple digit" club alongside rival Ericsson; both of which have renewed contracts with Finnish telco Elisa to build out their 5G infrastructure.
Nokia hits 100 5G deals
Nokia scored a major agreement in its own right, announcing that they would supply 5G RAN software and equipment to BT. BT and all other operators in the UK have been mandated to remove and replace Huawei equipment from their networks by 2027; a switch slated to cost hundreds of millions of dollars.
Nokia wins 5G RAN deal with BT
Samsung, in turn, is proving itself to be a staunch competitor — evidenced by their recent $6.6 billion deal to supply 5G network equipment to Verizon. This marks a significant foray into the United States market, having won their first network contract outside South Korea only this past March (with New Zealand's Spark 5G).
Samsung to supply Verizon with $6.6 billion worth of network equipment | ZDNet
As T-Mobile expands its 5G coverage to 121 new locations across the United States (bringing their total to 210), analysts predict that this December's mid-band spectrum auction will bring in a lot more than initially projected. AT&T and Verizon, following their recent complaints to the FCC regarding T-Mobile's spectrum accumulation, will show up with their checkbooks open. Both continue to defend their plans to use dynamic spectrum sharing (DSS) technology to help rollout their 5G networks faster, even if that means piggybacking on existing 4G LTE.
T-Mobile's 2.5 GHz live in 210 locations
Telcos, ISPs & Cable
After offering LTE Home Internet to pilot markets this summer, Verizon has decided to expand the service to rural areas across 48 states (excluding Alaska and Vermont). In addition to providing broadband connectivity made critical due to Covid, the move provides a massive opportunity for them to leverage existing spectrum assets for additional revenue.
"They have an idle resource here where they can make money and make brownie points in Washington, too. Opportunity came together with virtue here." — Roger Entner, Analyst, Recon Analytics
T-Mobile has made similar efforts to enter the fixed wireless market, while AT&T has yet to.
Verizon's LTE fixed wireless access is now available in 48 states
Gaming
Blacknut gaming has partnered with Thailand's leading mobile carrier AIS to power their 5G Cloud Gaming service — bringing their 41 million subscribers hundreds of console-quality games to users' mobile devices.
This development reflects the growing demand for cloud gaming services in South Asia, especially as mobile gaming becomes more accessible through cheaper, faster mobile connectivity. A recent report by Google-Niko partners analyzes this trend in the industry, finding that in 2019 China and Southeast Asia alone has 850 million mobile gamers bringing in over $28 billion in annual revenue.
Blacknut posted on LinkedIn
Asia-driven esports growth offers new opportunities for marketers, says Google-Niko Partners report | Digital | Campaign Asia
Blacknut is one of many gaming startups gaining momentum — another new major player being Playco, whose $100 million Series A funding puts it at a $1 billion valuation. The browser-based streaming game engine's mission is to remove barriers to games, which "shouldn't be trapped inside installed apps or downloads" according to co-founder Michael Carter (also CEO of Game Closure).
"This scale has never before been undertaken; the industry's current understanding of a 'big' game is hundreds of millions of players, but we intend to be the first to create games that billions of people play together." — Joint statement by Playco co-founders Justin Waldron (co-founder, Zynga) and Takeshi Otsuka (ex-DeNA director)
Game streaming start-up Playco lands $100m in Series A funding
After their advertising revenue took a severe hit over the pandemic, Russian internet company Mail.ru has turned to cloud gaming as a way to boost sales. They've partnered with fellow Russian-based decentralized cloud gaming platform PlayKey to help build out the service, which will be run on Nvidia servers.
Mail.ru working on new cloud gaming service - report
VR, IoT & Autonomous Vehicles
Last week it was flying drones, this week it's mailbox sensors: Amazon's Ring is looking to outfit peoples' homes with the newest security tech. The new product offered for $30, is designed to send an alert to users' phones when mailboxes are opened — working with other Ring products like doorbells and outdoor cameras to record footage of potential offenders. The technology relies on Amazon's Sidewalk system, which extends the range of WiFi networks to power smart devices outside the home. With mail theft purportedly on the rise, this sort of safeguard will likely resonate with consumers.
Ring Mailbox Sensor: Amazon will alert you if someone steals your mail
Police officers in Indiana are riding in style, ever since the Bargersville Police Department swapped out their Dodge Chargers for Tesla Model 3s. The best news? The upgrade has apparently paid for itself — with an average recorded operations savings coming out to $6,755 since they were purchased in August 2019, performance benefits aside. We'll see if more departments across the country opt to make the switch as well, given these insights.
See Tesla Model 3 Police Car Savings Over 1 Year Vs Dodge Charger
Business
Colocation provider DataBank has acquired zColo from Zayo Group Holdings, adding 44 data centers across the U.S. and Europe. DataBank CEO Raul Martynek commented that the deal aligns with their new "Data Center Evolved" strategy, which aims to support customers as they move their applications closer to the edge.
According to an editorial in the Chinese state-backed tabloid the Global Times — China is worried about its technology sector. That purport that with the U.S. imposing export restrictions on the country's largest chip manufacturer, Semiconductor Manufacturing International Corp, and Arm recently acquired by Nvidia, their place in the global semiconductor industry supply chain is seriously threatened.
"The foundation of the entire industry is still in Americans' hands. For now at least. China must leap from zero to one to provide solid support for the country's competition with the U.S." — Global Times editorial
China must prepare for 'long tech march' following U.S. restrictions on SMIC: Global Times
Referees, umpires, line judges, beware! Robots may be after your jobs sooner than later — or so hopes Serbian tennis star Novak Djokovic.
"The technology is so advanced right now, there is absolutely no reason why you should keep line umpires on the court. That's my opinion." — Novak Djokovic
The "advanced technology" he's referring to is Hawk-Eye, a Sony-owned computer vision system used in numerous sports from cricket to volleyball to eliminate human error. While Djokovic's got a fair point, it has to be mentioned that the recent scandal which involved him nailing a line judge in the throat with a rogue tennis ball may play in to his lament of the status quo…
(Semi) Sarcasm aside, this is yet another example of tech's confrontation with traditionalism. Should we seek to replace already functioning systems with their automated counterpart, just because we can? It's likely this debate will come up more and more as 5G and edge computing enable novel applications people may or may believe they want.
"[Hawkeye is] cool because it's a computer-generated system, so it's never wrong. There can't be any mistakes. You're not going to argue with a machine. That said, the negative is that there's not so much interaction with the fans. There's no cheering during challenges. More important, it's not in the tradition of tennis. In all these sports, there's a human element that creates suspense." — Jesse Levine, former professional tennis player
Worried your profession may be overtaken by automation? I welcome you to check out this nifty tool for reassurance (or mid-career crisis, depending on the results).
Whew, another week down. And if recent news isn't enough of a reminder, let's all be sure to stay safe & keep on wearing our masks.