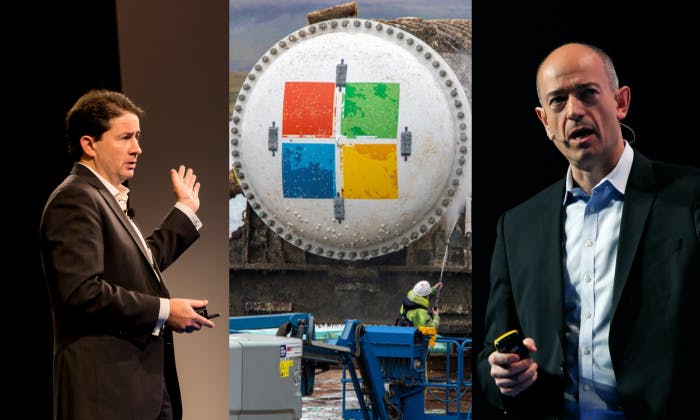 Nokia CTO Marcus Weldon discusses the adoption of ORAN — Microsoft resurfaces experimental underwater data center after two years — NVIDIA acquires ARM for $40 billion
Whether you're lucky enough to have safe access to an office, or still working from home (or your parents' home, like nearly 30 million Americans), we hope this week's roundup of industry news finds you well!
Of course, we have to start out by addressing some BIG news: Nvidia's $40 billion acquisition of Arm from Softbank. Arm, which has been dubbed the "Switzerland of technology" due to its liberal licensing of chip designs, has extensive reach across the semiconductor industry. As such, its coming under the auspices of U.S.-based Nvidia has raised some heads about the later company's increased dominance. Nevertheless, the pairing promises to usher in a new era of innovation in AI-based microprocessors.
The deal maintains Arm's Cambridge headquarters, and was accompanied by an announcement that Nvidia would be opening a nearby AI research center. You can check out this press release for more details.
5G
As recent alums of the program ourselves, we're happy to report that the 5G Open Innovation Lab just welcomed 16 new startups to its second cohort. The greater 5G ecosystem stands a lot to gain through fostering opportunities for new players to collaborate with seasoned industry veterans, and we're excited to keep an eye on developments.
5G Open Innovation Lab, backed by corporate giants, reveals 16 startups in second cohort
It wouldn't be a week in the news if some record wasn't broken! This time, U.S. Cellular made a big leap in 5G transmission range — completing a data call over three miles using a commercial mmWave network. The feat was powered by Qualcomm QTM527 antennas and Ericsson's network hardware, and ultimately serves to prove that high frequency spectrum has a place in rural environments.
This is significant, given that the feasibility (or even more so, profitability) of deploying higher bands in underserved areas is highly questioned. A report by Jim Slater of Ars Technica published just a few days before U.S. Cellular's announcement contended that it was still long off:
"For rural communities, as for businesses, the impact of the 5G rollout — especially for the first few years — will look much like the impact of the 4G rollout did about 10 years ago. The multiple-gigabit, ultra low-latency promise of mmWave 5G won't arrive any time soon — and it may not arrive at all, until those communities have already grown enough to not be so rural anymore." — Jim Slater, Ars Technica
5G in rural areas bridges a gap that 4G doesn't, especially low- and mid-band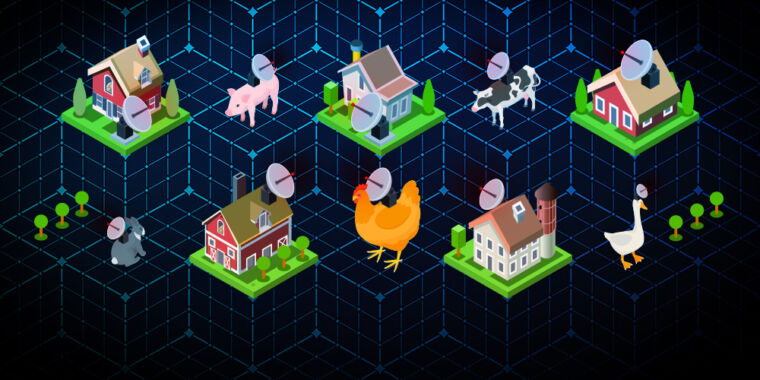 While U.S. Cellular opted to go with Ericsson for their rollout, Dish Network has turned to Nokia to supply their 5G core software. This marks one step closer towards the company to finally utilize its $20 billion spectrum portfolio. Following in Rakuten's footsteps, Dish has also chosen to build their network from the ground up using Open RAN — which was recently endorsed by the FCC as an opportunity for American companies to regain leadership in the mobile market.
In a recent six hour forum, all five FCC commissioners (with a quick cameo from U.S. Secretary of State Mike Pompeo) discussed OpenRAN in the context of security, the U.S.' position in the global telecoms industry, and lowering barriers of entry into the market and increasing competition. But Nokia CTO Marcus Weldon was quick to shut down its presentation as a catch-all fix to industry woes, arguing that a hybrid approach between new and old systems will be necessary until ORAN specs are up to performance par with incumbent technology.
Dish signs up Nokia to supply 5G core software
Back on the topic of innovations in 5G mmWave, Verizon is developing a solution alongside Samsung and Corning that will enable its use in buildings. As high frequency signals poorly penetrate dense barriers, indoor coverage has faced a lot of obstacles (literally). But as the fastest version of 5G, it is best positioned to power use cases like smart hospitals, manufacturing, and schools. The test combines a private core, indoor cell cites, and Mobile Edge Computing platform within facilities to provide enterprises a private and secure ultra-reliable, high-speed, low-latency 5G network. Verizon is excited about the potential this presents:
"A private 5G network will offer customers the potential to have the cloud within their facility. It will accelerate enterprise automation and digitization efforts, and with Verizon's mmWave bandwidth and reliability, it will offer the scalability to manage massive numbers of devices along with advanced capabilities such as Edge AI, computer vision and other emerging technologies." — Adam Koeppe, Senior Vice President of Technology Planning and Development, Verizon
In its largest acquisition since 2007, Ericsson is buying networking specialist Cradlepoint for $1.1 billion. The deal will provide access to tools that will facilitate IoT device connection, which Ericsson intends on expanding outside of U.S. markets (where it is currently focused).
"The acquisition is expensive, but the price tag is tolerable given high underlying growth rates and Ericsson's potential for revenue expansion in the enterprise market." — Aleksander Peterc, Analyst, Societe Generale
Ericsson to buy networking specialist Cradlepoint in $1.1 billion 5G deal
Telcos, ISPs & Cable
If you had the option of reducing your phone bill by five to ten dollars in exchange for a few ads, would you take it? AT&T wants to provide such an ad-subsidized service, but some lawmakers are fervently pushing back. In a letter to AT&T Chief Executive John Stankey, Connecticut Senator Richat Blumenthal asserts:
"Consumers expect that their phone and broadband providers are not spying on their phone calls and web browsing or using their private data for commercial gain." — Senator Richard Blumenthal (D-CT)
I guess the dilemma boils down to this: should consumers be given the choice to offer up their data in exchange for a deal? Does this undermine privacy, even when done willingly?
Exclusive: AT&T considers cellphone plans subsidized by ads
U.S. Senator Blumenthal demands AT&T drop push for ad-subsidized cellphone plans
In its latest product announcement since it stopped offering 100 Mbps internet, Google Fiber just released a new internet plan that stands to double its existing maximum internet speed from 1Gbps to 2Gbps. The offer goes for $100 a month, $30 more than the 1Gbps option.
Google Fiber to offer 2 Gig internet for $100 a month starting this year
A recent rebrand has us saying goodbye CenturyLink, hello Lumen Technologies! The new identity aims to reflect the company's new direction as "The Platform for Amazing Things," and nods to the light signals transported through its extensive fiber network.
"[Smart cities, retail and industrial robotics, real-time virtual collaboration and automated factories are some of the applications that Lumen believes it can help customers achieve in what it and others call the 4th Industrial Revolution. Steam power, electricity and then the computer chip all pushed economic progress, and now the melding of the digital and physical worlds that connectivity permits is doing the same.]" Shaun Andrews, CMO, Lumen
Data Centers
Two years ago, Microsoft sent a cylinder packed with servers to the bottom of the ocean. They found that the failure rate in the water was one-eighth of conventional land-based data centers, which their team speculates to be a result of its nitrogen-rich atmosphere and lack of human intervention.
The trial — dubbed Project Natick — took place off the coast of Scotland's Orkney Island, whose electricity comes completely from wind and solar power. Microsoft is optimistic about the potential proven by the experiment, which could result in more environmentally friendly data storage both in and out of the water.
Microsoft's underwater data centre resurfaces after two years
Drones & VR
Walmart and Amazon are facing off in a battle over drone delivery, with the former recently announcing that it has partnered with Zipline to launch a delivery service of health and wellness products in the U.S. As we covered in last week's roundup, this comes off the heels of their deal with Flytrex. Trials will begin near the Walmart headquarters in Arkansas, and promises a delivery radius of 50 miles from the store.
Amazon and Walmart's emerging delivery drone battle escalates with Zipline deal
Facebook's second-generation Oculus Quest VR headset will be shipping next month, at a starting price of $299. The release promises e a better, cheaper VR offering than its predecessor — which is being retired. A controversial caveat, however, is that the headset requires a Facebook sign-in to use (though the company argues that this will make the tech "more social").
You can see the Quest 2 in action in this leaked promotional video:
Oculus' new Quest 2 VR headset starts at $299 and ships October 13th
The application of VR goes way beyond gaming though. Just look at that recent experiment by UBS, which supplied its London-based traders with Microsoft HoloLenses in order to simulate the experience of trading floors in workers' own homes. It's another show of how COVID has forced business to adapt to remote work settings.
https://www.ft.com/content/7a551253-1f74-4f9a-8845-f9b7220dccda
Gaming
The French gaming startup Blade…
…recently made some changes to its C-suite, bringing on gaming industry veteran Mike Fischer as CEO and notable open-source figure Jean-Baptiste Kempf as CTO. Raising over $100 million in funding, Blade — which is behind the popular cloud gaming platform Shadow — has grown significantly in the past few years. We'll see how the new leadership carries on this momentum as they look to expand to the U.S. market.
After a successful lobbying initiative by two local esports associations, Ukraine has officially recognized it as an official sport. This means that the government will be able to pursue investment strategies into the Ukrainian esports infrastructure. The Minister of Youth and Sports outlines the rationale for its inclusion:
"We cannot ignore this phenomenon because esports is developing very fast all over the world. Audience interest is growing every month as is the involvement of our population. We want our children, who are already at the computer most of the time, not to become addicted to gaming, but to be able to turn their hobby into an intellectual competition." — Vadym Gutzayt, Ukraine Minister of Youth and Sports
"Gaming addiction" versus "intellectual competition" seems like a load of semantics to me, but regardless: the decision represents a shift away from viewing gaming as a trivial pastime into a demonstratively lucrative avenue for national development, comparable to traditional sports.
But hey, at least playing video games in your room is now technically "getting some exercise".
In part of their national security campaign against Chinese-owned tech companies, the Committee on Foreign Investment in the United States (CFIUS) has ordered all gaming companies affiliated with Tencent to provide their information security protocols. This includes Epic Games, which Tencent owns 40% of.
And on that same thread: the results are in, and it looks like Oracle was crowned winner in the bid over TikTok, snubbing Microsoft and claiming a 12.5% stake in the company. Walmart also jumped into the deal with a 7.5% stake and a seat on the five-member board. TikTok parent company ByteDance will own the remaining 80%, though all U.S. user data will be managed under Oracle. Hurrah! Security issues, resolved! Now instead of a foreign actor allegedly using and abusing personal data, a domestic one will be doing the same thing instead. Much more patriotic, right?
Trump agrees to TikTok deal with Oracle and Walmart, allowing app's U.S. operations to continue