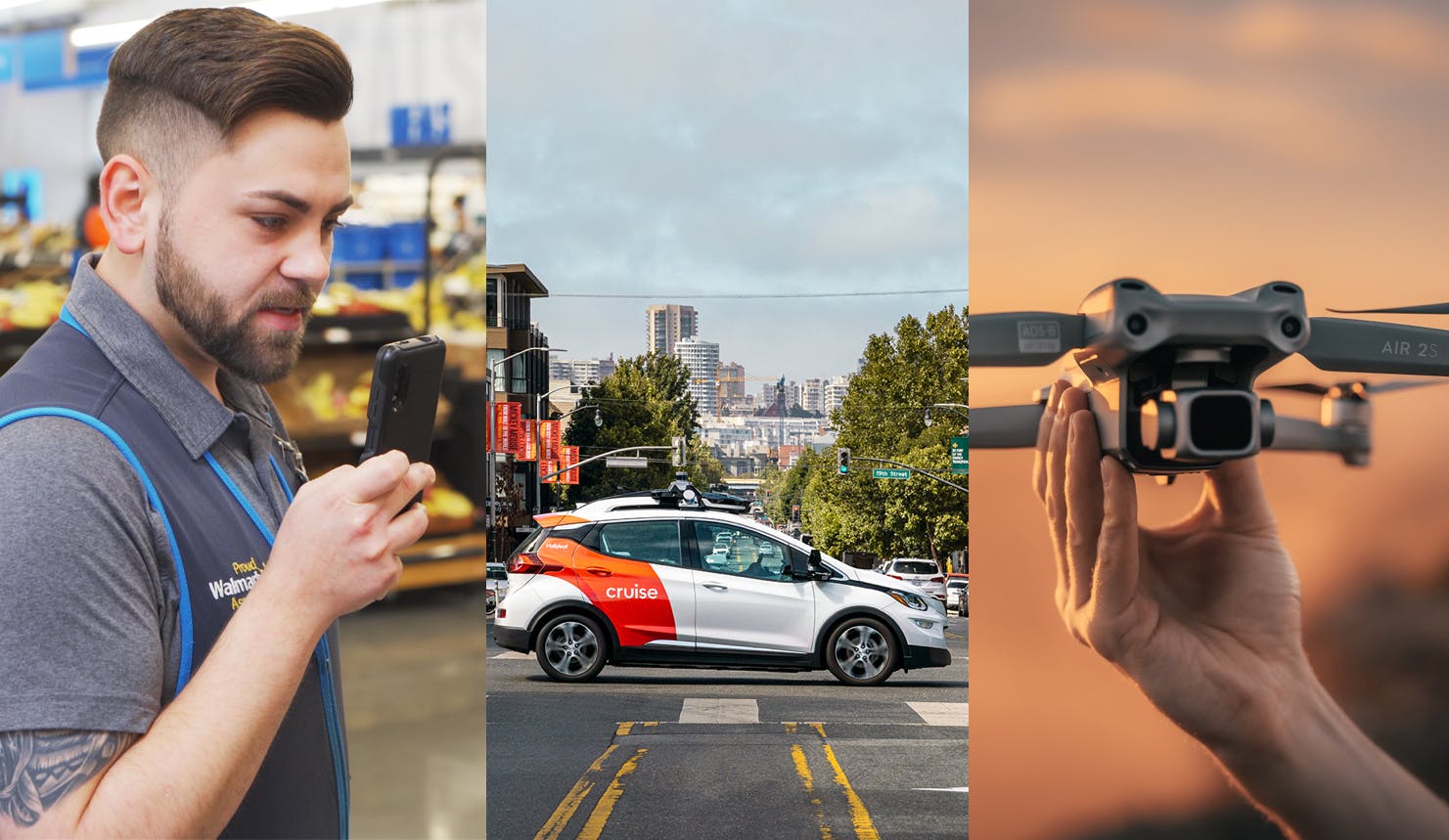 Walmart gives employees new Samsung phones—Cruise gets the green light for driverless rides in California—Pentagon clears DJI drones
Welcome to this week's edition of the Edge Roundup! What better way than to kick off with the latest from one of the U.S.' "most innovative retailers." 
In a recent digitization effort, Walmart has developed the "Me@Walmart" app to serve as an "all-in-one" portal for scheduling, messaging, and in-store logistics via it's "Ask Sam" virtual assistant. The retailer also is handing out Samsung smartphones to 740,000 employees across the U.S. to ensure associates have a "sleek, new device" to use the app. Not sure where that leaves the other 860,000 U.S.-based employees, however. 
A company statement reiterates Walmart's intention to incorporate next-gen tech into its app interface, from machine learning, AR/VR, AI, and camera vision to increase efficiency and improve the customer experience. It will be interesting to keep an eye on what retailers follow suit. 
"As retail continues to evolve—and quickly—it's more critical than ever to equip our people with the tools and technology they need for success. Doing so makes work easier and more enjoyable, and it keeps the focus where we need it most — delivering a great in-store, pickup and delivery experience for our customers." —Walmart statement
Though switching from traditional shared handheld devices to personal phones in the workplace may seem like an insignificant jump, the PR surrounding its "free phone" gesture reflects Walmart's ongoing commitment to communicating its status as a "leading innovator" in tech. How else would they generate buzz around something as mundane sounding as a new app?
Is it working? They want to know: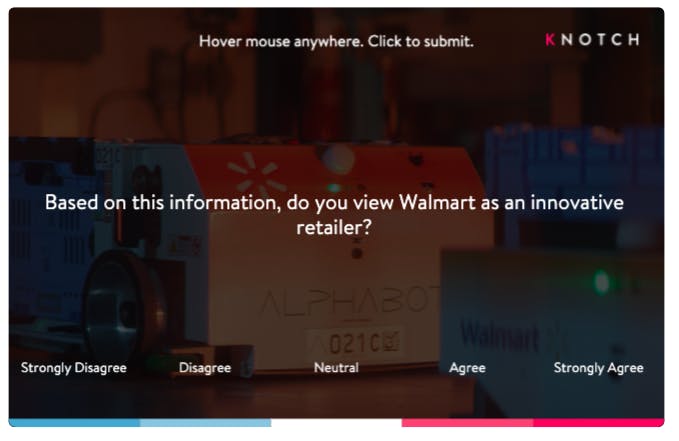 Walmart will give 740,000 employees a free Samsung smartphone
5G & Edge
Speaking of phones, rumor has it that the latest iPhone will accommodate mmWave 5G in more countries, opposed to the US-only limitation of its model 12. 
"Apple will launch its next-generation iPhone series—tentatively dubbed the iPhone 13—later in 2021, according to industry sources, which believe that more than 50% of the total iPhone 13s set to be shipped this year will be 5G mmWave models." —DigiTimes Report
The development mirrors the increasing availability of 5G, though coverage is arguably underwhelming for the majority of users—relatively spotty and limited to a select number of cities. The comments section, reliable as always, reflects relative underwhelm:

Greater Share of iPhone 13 Models Expected to Support Ultra-Fast mmWave 5G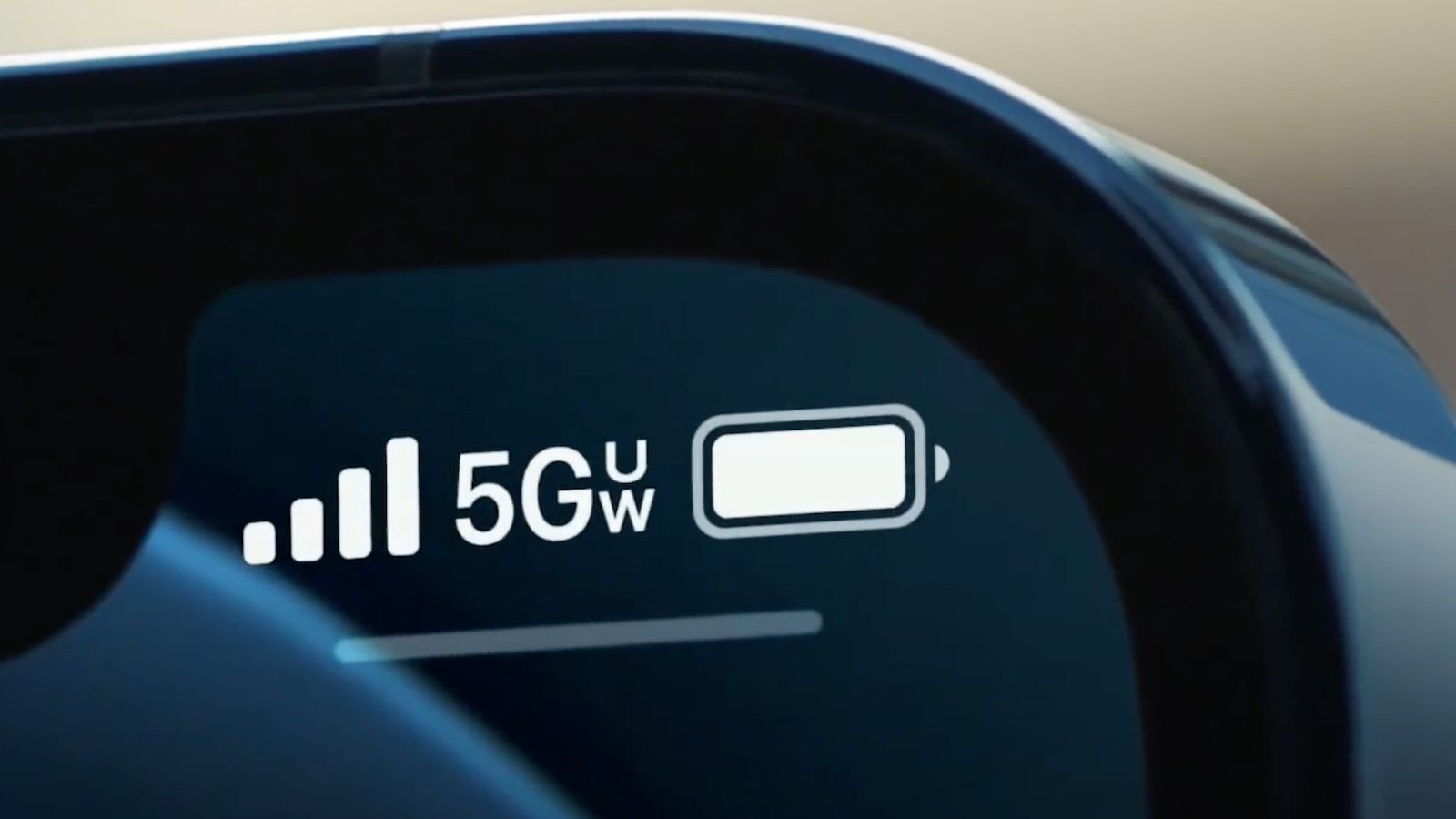 Given 5G's tenuous efficacy in urban areas, the attempt to go rural is a significant jump. But T-Mobile identifies remote communities as a major focus:
"This is a huge opportunity for us. It's 40% of the entire marketplace, when you think about smaller markets and rural areas...no company has been able to do what we're going to go and do." —Jon Freier, EVP Consumer Group, T-Mobile
The "un-carrier" aims to have 20% market share within the next five years—which includes bringing its distribution to a couple thousand Walmart stores.
T-Mobile in 'early innings' of rural distribution game
Just as the three major carriers are racing to carve out their 5G footprints, ownership of edge networks "akin to the Wild West"—according to CSO of Accedian in a recent interview with RCR Wireless:
"There's a ton of opportunity and the potential for many people to win the race [to the edge], but no one is quite there yet. Almost every operator is experimenting with edge and different edge stacks with varying degrees of success.Similarly, to the cloud computing race of a decade ago, ownership comes down to service providers versus cloud hyperscalers."—Richard Piasentin, CSO, Accedian
Rather than paraphrase his insights, I recommend checking out the full feature. 
Gaming & VR
The chips will fall where they may, and that unfortunately will be into fewer devices as the global shortage is projected to persist over the next couple of years. Last week's Roundup addressed how Nvidia introduced a crypto-specific offering in a bid to conserve graphics cards for gamers, but there's only so much that can be done to mitigate short supply in a high-demand market. 
"While the industry has taken steps to address near term constraints it could still take a couple of years for the ecosystem to address shortages of foundry capacity, substrates and components." —Pat Gelsinger, CEO, Intel
Intel reiterates chip supply shortages could last several years
We love a good cloud gaming feature, and this recent interview with EA CEO Andrew Wilson is chock-full of insights into the fast growing market. Most notably, how cloud technology will enable gaming to take on an increasingly "social" element through enabling seamless, real-time connection:
"The issue with Stadia was that for multiplayer games, it was really hard to find other people to play with early on in the cycle. These games are now social networks. These are not solo experiences that we play in the back of our bedroom or our basement; we do this with other people, we connect around the world. It's just going to take a little bit of time, but what I saw was actually reassuring, because there was a lot of goodness in gameplay and that's only going to get better." —Andrew Wilson, CEO, EA
The latest Steam Hardware Survey has shed some light on patterns in peoples' VR usage, with the Oculus Quest 2 unsurprisingly emerging as the headset of choice. According to the randomized survey, Facebook holds 60% of the market share, with HTC and Valve both with 15% a piece.
Quest 2 Propels VR Headsets On Steam To All-Time-High
Drones & Autonomous vehicles
TechCrunch's Brian Heater recently profiled the latest in delivery logistics, which makes the following technically...roundup-ception?
Notable news included DHL doubling its contract with Locus Robotics, Realtime Robotics closed a $31.4 million Series A round, and Starship Technologies picked up former Alphabet Loon CEO Alastair Westgarth to helm the company. 
Also cool—Skydio has launched a 3D Scan software suite for its self-flying drones that allows users to transform hundreds of still photographs to realistic mock-ups of the area captured. Real-world applications of the tech include remote inspection, as well as crime scene and accident reconstruction.
I broke off a tiny piece of the world with a self-flying drone
GM subsidiary Cruise is the first autonomous vehicle company to nab the coveted California permit allowing them to transport passengers sans-driver. While still in its pilot program, this is an essential step closer towards commercial deployment. Competitors Aurora, AutoX, Cruise, Deeproute.ai, Pony, Waymo, and Zoox are all one step behind with "drivered" permits.  
"Issuance of this first driverless permit for the CPUC's Autonomous Vehicle Passenger Service Pilot Programs is a significant milestone. Autonomous vehicles have the potential to transform our transportation system and communities by solving individual mobility needs, improving roadway safety, and moving goods throughout the state sustainably and efficiently. The effective deployment of autonomous vehicles can also transform vehicle manufacturing, maintenance, and service business models to create new jobs and industries for the California workforce."—Genevieve Shiroma, California Public Utilities Commissioner 
Things are a little less strict over in Arizona. Those in the greater Phoenix metro area will now be able to call a Waymo driverless taxi through the Google Maps app:v
Now you can call a Waymo driverless taxi right from Google Maps
Two DJI drone models were recently approved for government use after a Pentagon audit confirmed the devices were clear of "malicious code or intent." This follows their ban just over year ago, where cybersecurity concerns also prompted regulators to axe Huawei and ZTE equipment from national network hardware.
"This U.S. government report is the strongest confirmation to date of what we, and independent security validations, have been saying for years – DJI drones are safe and secure for government and enterprise operations." —Adam Lisberg, DJI spokesperson
Pentagon report clears use of drones made by top Chinese manufacturer
We'll sign off with another note on security, a follow-up from last week's Amazon Sidewalk scrutiny. According to Popular Science, the skepticism is deserved—but not for an obvious reason. The article posits that rather than being concerned over routing internet traffic between neighbors—as it's encrypted—users should be cautious of the trackability of Amazon's Tile devices. As the Sidewalk network expands beyond just the "Sidewalk," what is there to stop a malicious actor from using Tiles to track unsuspecting targets? 
Amazon is reportedly looking at a fix for this sinister caveat, but it nevertheless makes their "opt-out" approach to the scheme all the more off-putting. 
That's it for this week! Catch you next Monday for another rundown of tech news.