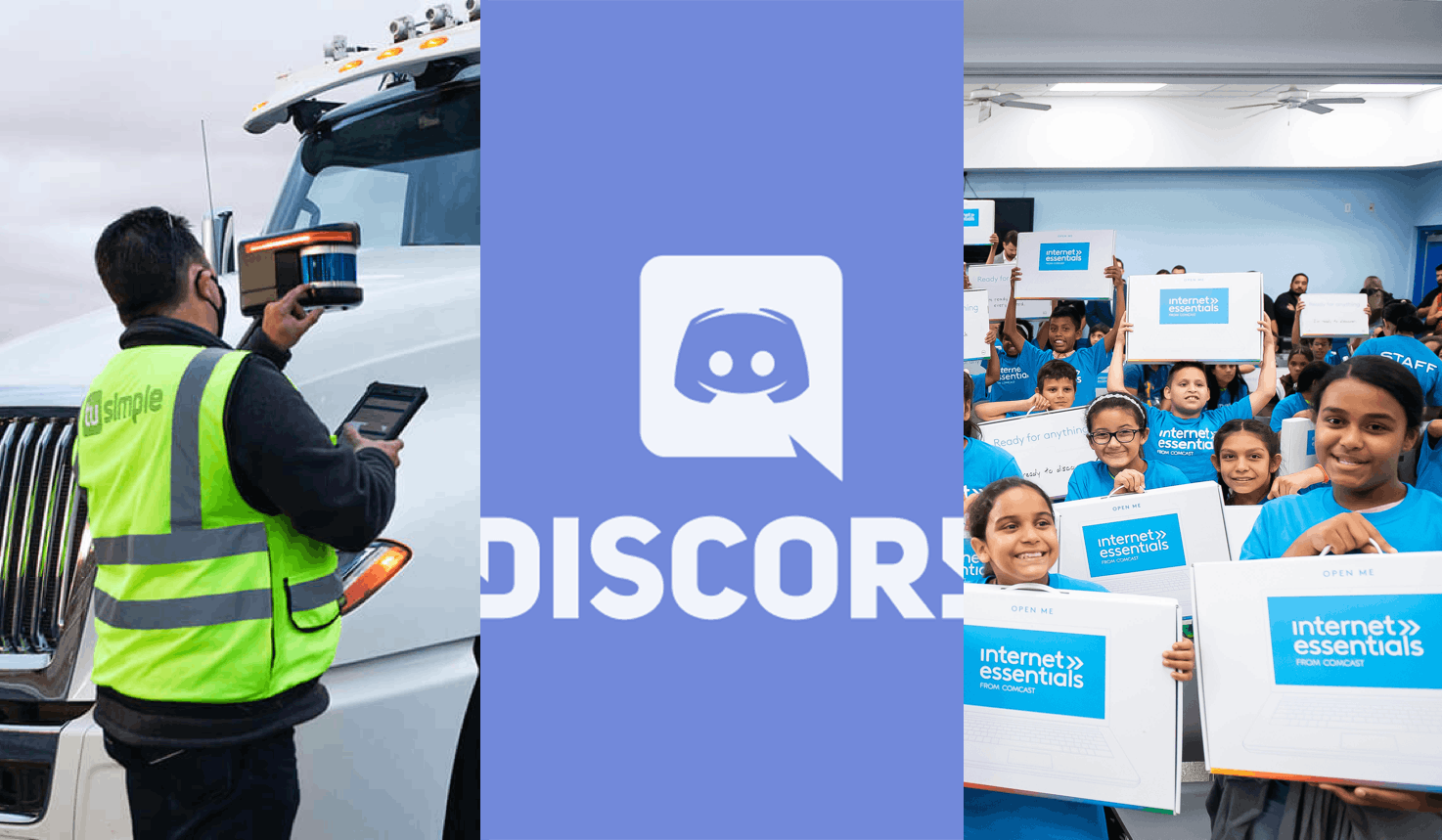 Autonomous truck company TuSimple files for IPO—Microsoft in talks to buy Discord in $10B+ deal—Comcast commits $1B towards internet equity programs
We're back at it with another week of tech news! Not much new to report, especially considering that the biggest story of the week was a cargo ship blocking the Suez Canal. 
Honestly, disrupting one of the world's most important trade routes seems like a fair tradeoff for the memes:
It's the little things, am I right?
With that aside, we may as well jump straight into a rather less-laughable headline: tech CEOs' Congressional hearing over the January 6th attack on the United States Capitol. Google's Sundar Pichai, Facebook's Mark Zuckerberg, and Twitter's Jack Dorsey were grilled for six hours over their culpability in failing to curb extremism and misinformation on their platforms. Lawmakers came out swinging:  
"You failed to meaningfully change after your platform has played a role in fomenting insurrection and abetting the spread of the virus and trampling American civil liberties. Your business model itself has become the problem and the time for self-regulation is over. It's time we legislate to hold you accountable...You're not passive bystanders—you are not non-profits or religious organizations that are trying to do a good job for humanity—you're making money." —Representative Frank Pallone (D-NJ)
Unsurprisingly, Zuckerberg argued that it's not his company's' responsibility to censor online content—following up that Facebook is taking multiple measures to combat misinformation. Pichai deflected by highlighting Google's efforts towards spreading COVID-19 and vaccine information resources, leaving Dorsey the only one to acknowledge Twitter's role in the insurrection, and additionally putting forth a proposal to develop an open protocol surrounding content moderation.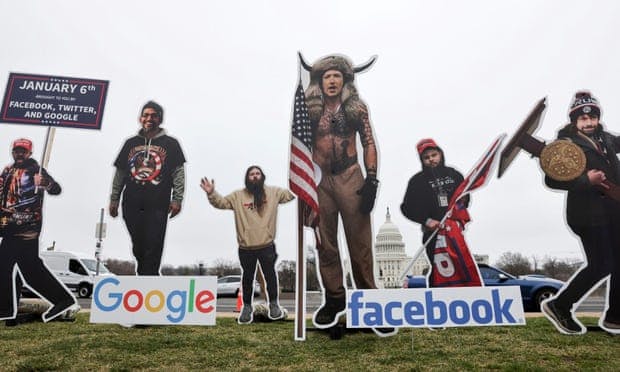 Protestors portray Zuckerberg as the infamous "QAnon Shaman" Credit: Jonathan Ernst/Reuters
This is just the beginning of a possible reckoning for Big Tech, with antitrust hearings planned for this year.
Tech CEOs grilled over role in Capitol attack as protesters mock them with giant cutouts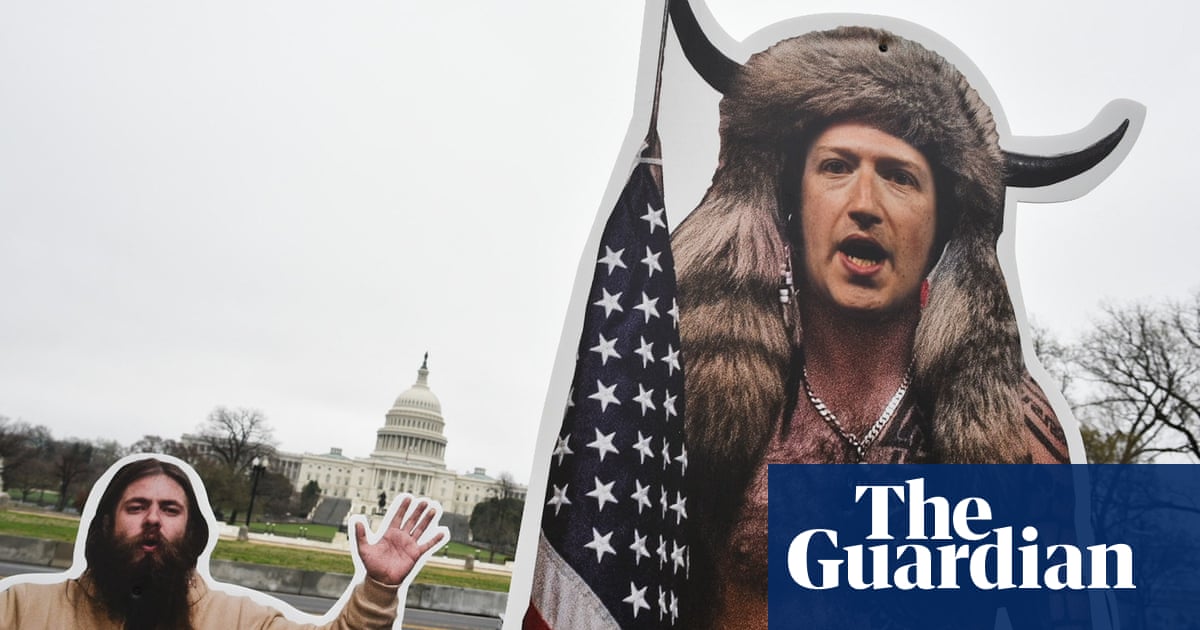 Social media's great misinformation clean-up act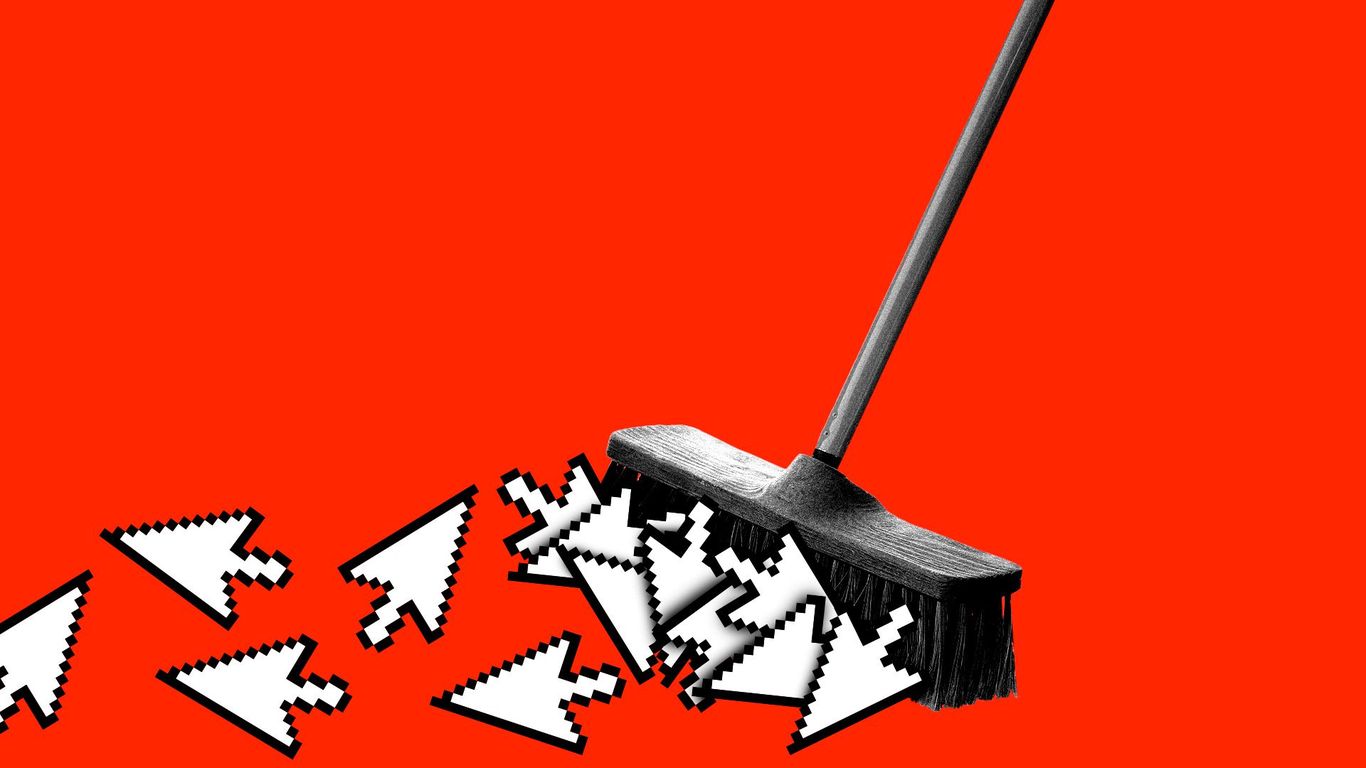 5G, Cable, & Cloud 
While both Verizon and AT&T are working towards moving from LTE-backed to standalone 5G network cores, the transition timeline has been pushed back. According to recent comments at last weeks' FierceWireless 5G event:
"We are still committed to deploying standalone core. In large part it's a function of the upgrades of the 3GPP standards with Release 16 and 17 and also the availability of the relevant equipment and support for the capabilities that the standalone core enables in devices, etc. So, it's absolutely on our roadmap. But certainly for 2021, our priority is prepping the network for C-band's arrival." — Ronan Dunne, EVP and CEO - Consumer Group, Verizon
"5G is an opportunity, in time, to really invest in and upgrade the network...I believe 5G standalone is going to be fully cloud-native from the get-go...We're doing a lot of testing. We're deploying some of that already. I think it's going to be a journey in terms of going fully scalable nationwide. We'll announce those timelines in due course."—Mazin Gilbert, VP of Analytics and Automation, AT&T
Of the big three, T-Mobile's the only carrier who's been on course with its SA deployment, which launched nationwide last summer.
AT&T, Verizon hedge on 5G core timelines
Comcast announced last Wednesday that it is investing one billion dollars over the next ten years towards subsidized internet plans for qualifying low income families across the United States. Launched in 2011, the operator's $9.95 a month "Internet Essentials" plan currently delivers 50Mbps speeds to 10 million households receiving public assistance. 
Originally created as part of a regulatory stipulation following its acquisition of NBC Universal, affordable broadband internet has never been a higher priority due to the pandemic—especially within the context of education. A September study by Pew Research Center revealed that six in ten low-income families cited digital hurdles as a key barrier to completing remote schoolwork.
"Ten years is a remarkable milestone, signifying an extraordinary amount of work and collaboration with our incredible community partners across the country. Today, we are rededicating ourselves to this mission to ensure that the next generation of students in America has the tools, resources, and abilities they need to succeed in an increasingly digital world." — Dave Watson, CEO, Comcast Cable
The Twitter replies to the announcement demonstrate, however, that despite the "do-gooding"—it's hard for cable companies to be off the hook for what subscribers perceive as subpar service and problematic political lobbying initiatives.
Comcast investing $1 billion over 10 years in internet equity programs, with Chicago at the center of effort to bridge the digital divide
It's not news that people are using the internet now more than ever before. CDN, cybersecurity, and cloud service provider Akamai gave a telling testament to the degree to which things have skyrocketed, as the company reached 200 Tbps of peak web traffic last week.
"Here's another way to look at it: If one cup of coffee is equal to 1 megabyte, then 200 Tbps would give everyone in New York City more than 180 cups of coffee per minute." —Adam Karon, GM Edge Technology Group, Akamai  
Consumer internet usage surged over the pandemic, a trend that shows little signs of ebbing.
Akamai hits huge new 200 Tbps web traffic peak
Amidst the SolarWinds fiasco, questions around security have become even more salient. Senior VP of IBM Hybrid Cloud and TechCrunch contributor Howard Boville points to the haphazard merging of disparate IT environments—the "Frankencloud model"—as a key area for concern. The more complex and disconnected a system, the more vulnerabilities/discrepancies there are for malicious actors to exploit. With the rapid emergence of hybrid clouds as the computing environment of choice for many organizations, both private and public, there's a greater opportunity to leverage unified security systems:
"We need to stop bolting security and privacy onto the "Frankencloud" environment that operates so many businesses and governments. SolarWinds taught us that our dependence on a diverse set of technologies can be a point of weakness. Fortunately, it can also become our greatest strength, as long as we embrace a future where security and privacy are designed in the very fabric of that diversity." Howard Boville for TechCrunch
Gaming
Rumor has it that messaging platform Discord is up for sale, with Microsoft emerging as a potential buyer. The $10 billion-plus acquisition would complement the company's recent purchase of gaming giant ZeniMax Media last year, helping boost its social platform presence following its failure to pick up TikTok assets in the Fall. The Verge highlights "community" as a key strategic interest for Microsoft. Competitors Google, Amazon, and Facebook dominate that market with Youtube, Twitch, and Instagram/Whatsapp respectively. Discord would hand Microsoft access to over 140 million monthly active users.
"Creation, creation, creation — the next 10 years is going to be as much about creation as it is about consumption and about the community around it, so it's not creating alone. If the last 10 years has been about consumption — we're shopping more, we're browsing more, we're binge watching more — there is creation behind every one of those." —Satya Nadella, CEO, Microsoft
Microsoft in talks to buy Discord messaging platform - sources
Why Microsoft wants Discord
Drones & Autonomous Vehicles
We covered Irish drone company Manna's pilot program in Oranmore, Ireland earlier this year, which has supplied the suburban town of 10,000 with airborne groceries and other goods. Now, the company has partnered with Samsung to deliver small electronics (such as phones and smart watches) to residents within three minutes. Not really groundbreaking so much as a broadening of their service, the partnership nevertheless points to a future where "next-day" shipping is replaced with "next-minute" shipping. 
Samsung's new partnership offers another glimpse of a drone delivery future — in only one Irish town
Self-driving truck company TuSimple filed for an IPO last Tuesday. Founded in 2015, the startup was one of the first to emerge in the autonomous trucking industry, which now includes actors like Waymo, Aurora, Embark and Kodiak. 
While operations are heavily based in the U.S., Chinese investors hold the majority of TuSimple's shares. Given this primary funding source, the company's filing was flagged for potential regulatory risk. The Committee on Foreign Investment in the US requested that TuSimple provide a written notice about an investment by an affiliate of Chinese tech company Sina Corporation, and could mandate that the investor divest should the Committee conclude the relation poses a national security threat. 
TuSimple isn't the only China-based self-driving firm in the United States—AutoX, Pony.ai, and WeRide.ai actively test their tech in California research labs—but it is the only one with U.S.-focused commercial aspirations. We'll keep an eye on new developments.
The electrification of the auto industry has made another step forward, with German automaker Audi opting to retire combustion engine development. The company cited new EU regulations as the primary instigator for the decision:
"The EU plans for an even stricter Euro 7 emissions standard are a huge technical challenge and at the same time have little benefit for the environment...that extremely restricts the combustion engine. We will no longer develop a new internal combustion engine, but will adapt our existing internal combustion engines to new emission guidelines." —Markus Duesmann, CEO, Audi
Duesmann goes on to assert that although "more than 90 percent of the cars [Audi] currently sells are combustion engines," the "future is electric." This raises a key issue: while electric is on its way to becoming the norm, the transition may not be smooth for all drivers. The lack of infrastructure supporting full electrification, such as accessible charging stations, constitutes a major barrier.
Official: Audi Won't Build Another Combustion Engine
That's all we've got for this week. Be sure to check out the CableLabs 4Front Podcast tomorrow for an interview with our CEO pelle, who will be diving into his background and journey to founding Mutable, as well as how removing barriers to application delivery will empower developers to create and scale the technology of the future. You don't want to miss it!