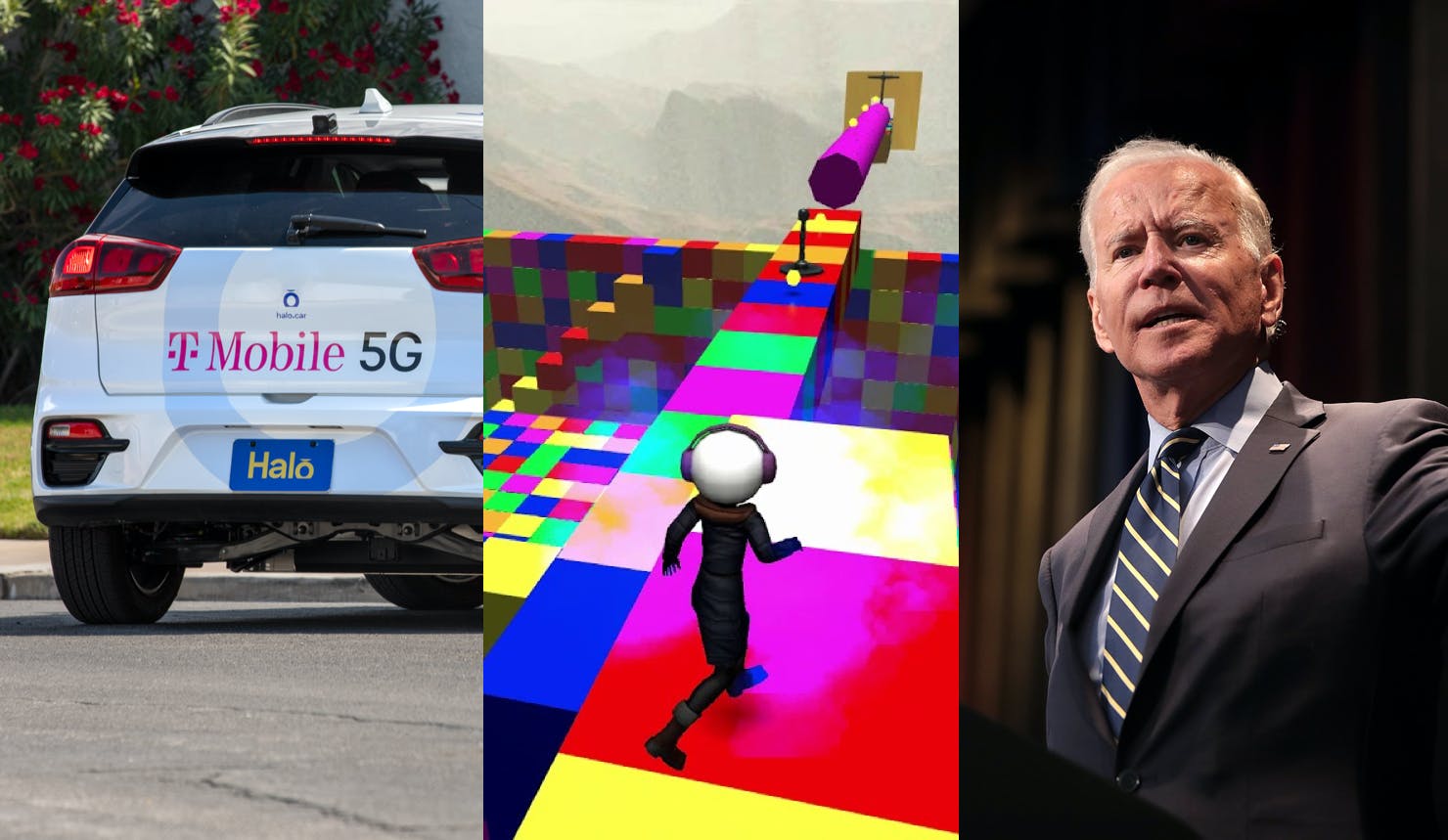 T-Mobile and Halo bring driverless ride-hailing to Las Vegas—Hiber raises $15 million for user-generated gaming—Executive order set to reinstate net neutrality
Why not start off this week's Roundup with a healthy serving of self-promo? We're excited to have been named amongst IT Business Edge's "Top Edge Companies of 2021." We've been busy working behind the scenes on a number of exciting projects, and are looking forward to sharing them when we can! In the meantime, let's get into what the industry's been up to this past week.
Taking a page from the FDA, the FCC is looking to apply a "nutrition label" model to broadband offerings, an idea first introduced in 2016. Mandating that private companies display their services in such a manner seems extremely hand-holdy, but hey—if regulation is the only way to improve some providers' abysmal transparency records, then as the saying goes: they've made their bed.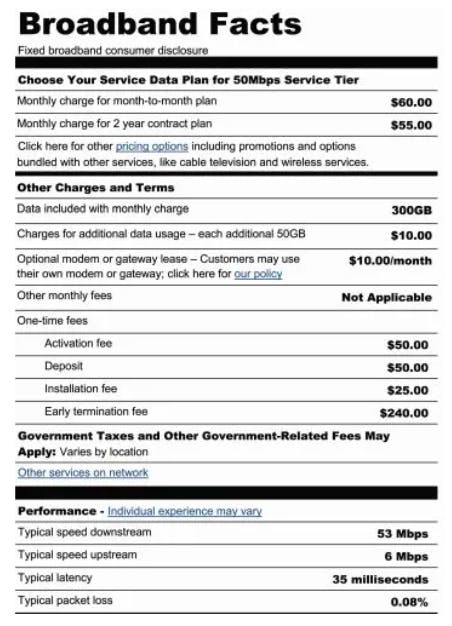 Sample FCC "Broadband Nutrition Label"
Arguably the most controversial move by Ajit Pai's FCC was nixing net neutrality—the condition prohibiting ISPs from manipulating the delivery of specific online content. A new executive order by President Biden has proponents of the regulation rejoicing, as it promises to restore several provisions related to net neutrality. 
"Every American should have high-quality, affordable broadband. Today's executive order spotlights the values that should drive our work toward that goal: affordability, fairness, competition, innovation, and consumer choice."—FCC Commissioner Geoffrey Starks
"The tens of millions of Americans without reliable internet access are counting on us — at the FCC and across the federal government — to fight for a more vibrant and inclusive broadband marketplace."—FCC Acting Chair Jessica Rosenworcel
Aside from net neutrality measures, other directives for the FCC from the order include prohibiting "unreasonable" early termination fees for communications contracts, requiring broadband service providers to regularly report price and subscriptions rates to the FCC, forbidding landlords and internet providers from limiting tenants' choice of service, and implementing the above "broadband consumer label." 
Granted, implementing any of these changes is contingent on adding a third commissioner that would actually vote for them—breaking the current 2-2 divide in the FCC.
Biden's executive order puts net neutrality back in the spotlight
5G & Autonomous vehicles
T-Mobile has partnered with driverless car company Halo to launch one of the first commercial services in the U.S. Powered by T-Mobile's 5G network in Las Vegas, people can order Halos as they would any other ride-hailing service—sans driver. Well, almost. Halo, a fellow graduate of T-Mobile's 5G Open Innovation Lab, leverages offsite drivers to remotely operate its fleet. While humans control the vehicle, the AI learns in the background. 
"Driverless vehicles require a network with high capacity, broad coverage and low latency, making T-Mobile 5G a perfect match for developers such as Halo. There is a lot of work to do on the path to full autonomy, and Halo is taking a unique and intelligent approach to get there." —John Saw, EVP of Advanced & Emerging Technologies, T-Mobile
The promotional video works to assuage skepticism about driverless car safety, highlighting the benefits of taking baby steps on the path towards full autonomy through its RemotePilot approach.
Halo and Las Vegas Launch Driverless Car Service Powered by T‑Mobile 5G | T‑Mobile Newsroom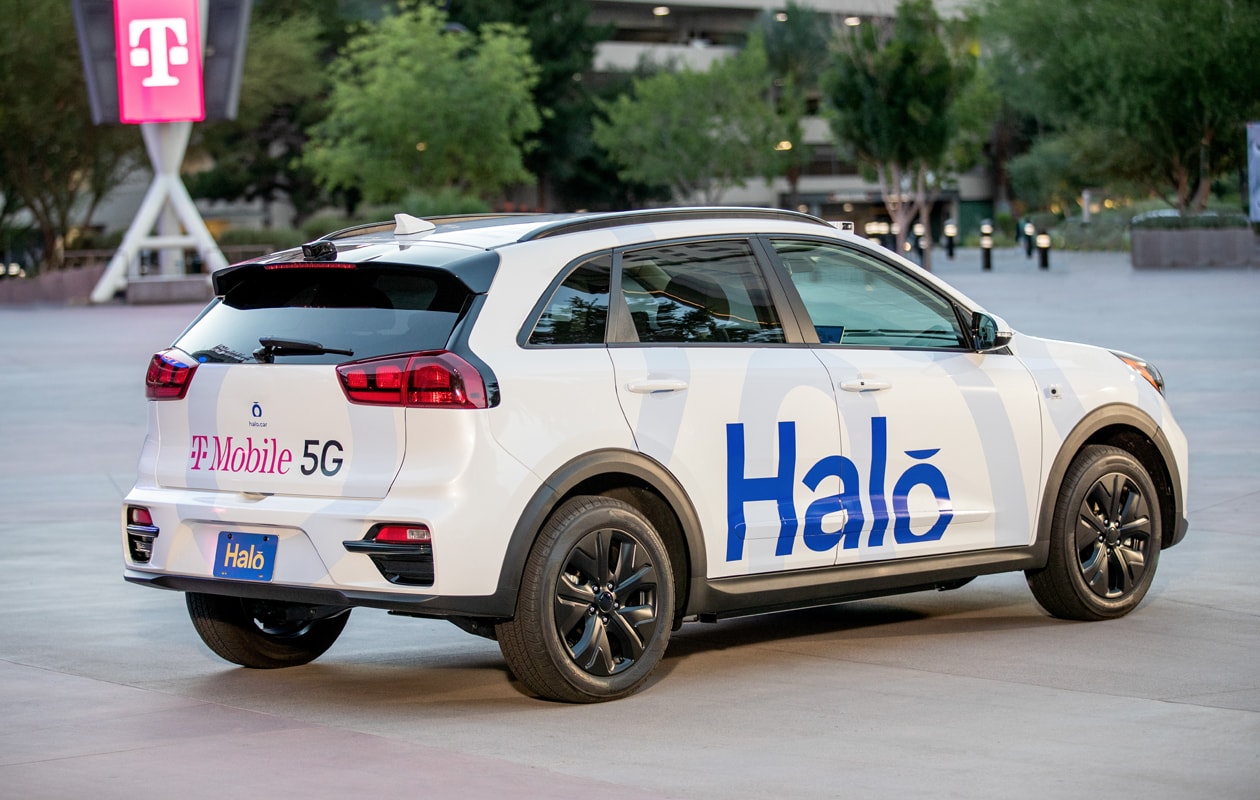 Another telco keen to leverage its 5G network for solutions-on-wheels is Verizon, who recently debuted a tactical humanitarian operations response prototype vehicle dubbed THOR. 
"Think of THOR as a Swiss Army Knife of 5G on wheels."—Cory Davis, Director of Response and Public Safety Operations, Verizon
Built based on feedback from the U.S. Department of Defense, THOR was designed to deploy low latency and high bandwidth-dependent applications in tricky terrain, such as along the border with Mexico. It also enables first responder VR/AR training, and even comes equipped with a drone launch pad (the Swiss Army Knife comparison is starting to make sense, no?). 
The vehicle was first debuted at the Marine Corps Air Station Miramar in San Diego:
"At Marine Corps Air Station Miramar this week, we demonstrated THOR's ability to enable a fully-operational 5G network that allowed: autonomous robot communication to a self-driving battery delivery vehicle, video streaming between people and vehicles in the field, data from sensors on devices operating in an austere environment, and 5G mobile edge computing being used to help decision-makers by providing a single operating picture of all of these data feeds in real-time." —Christian Guirnalda, Director of Verizon 5G Labs
It remains uncertain what THOR will actually be used for. Verizon said that as a prototype, there are no plans to produce more of the vehicle...so it may just be a flex of all the applications 5G networks are capable of delivering.
Data Centers
If you're an iPhone or MacBook user, chances are that our good friends at Apple have taken the time to remind you that your iCloud storage is running dangerously low. Turns out, so is theirs! A report from The Information broke the news that a significant amount of Apple user data is stored in Google's cloud—to the tune of eight million terabytes. As Google Cloud's biggest client—larger than ByteDance and Spotify—Apple drops $300 million on storage per year. So for those of us who've bit the bullet and bought extra iCloud space...I guess it's like paying Google, with extra steps? 
While outsourcing storage to hyperscalers may be Apple's most economical option, it is interesting that even the most profitable company in the world hasn't been able to meet the data needs of its users through its own network of data centers. 
Apple Reportedly Storing Over 8 Million Terabytes of iCloud Data on Google Servers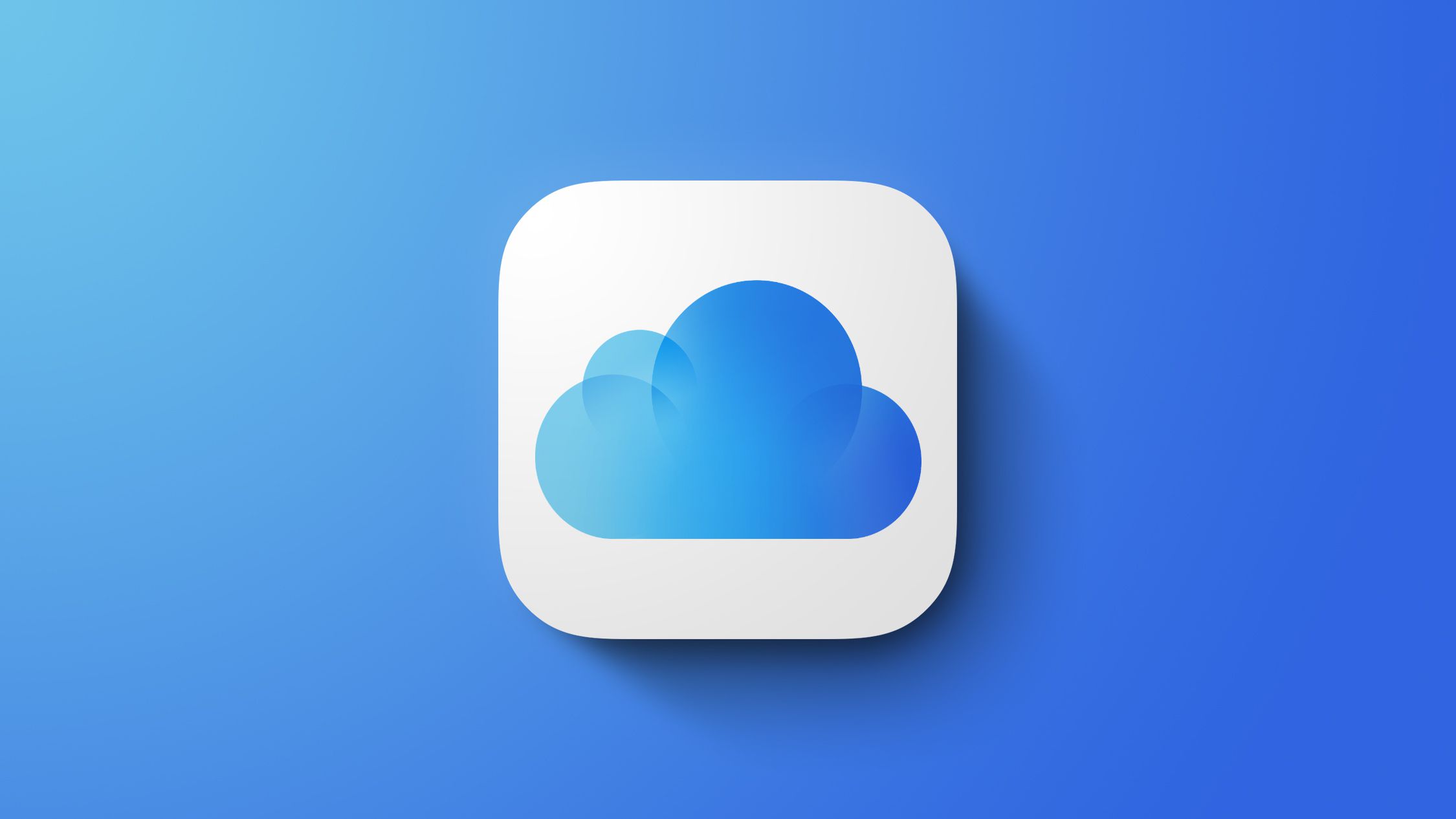 Russian operator MTS approached their growing data storage needs in a different way—buying out another company, GDT Energy Group, to get ahold of one of the largest data centers in Moscow. The $70.8 million acquisition of "GreenBush" facility promises to boost MTS' enterprise cloud offering, joining the operator's network as the 12th "major" data center across Russia:
"MTS has become one of the largest data center players in Russia thanks to our balanced strategy of building out modular data centers as well as opportunistically looking at attractive assets on the market. When fully equipped, GreenBush will rank among the top-five data centers in Russia by capacity, providing us with significant headroom to grow in the Moscow metro area, which today accounts for some 80 percent of the Russian commercial data center market." —Igor Egorov, VP for Infrastructure Development, MTS
Gaming & VR
Between Minecraft and Roblox, we seem to be at the precipice of a golden age for user-generated gaming. New to the scene is Swedish-based Hiber, who recently picked up $15 million to power its own platform. Self-described at the intersection of "connected devices, AI, and creator-focused entertainment," Hiber strives to provide gamers with the tools to create interactive experiences, no programming knowledge needed. 
"It was funny to see Roblox change their messaging from user-generated games to interactive experiences, we actually had done that about six months ago. We realize it's not all games. It's really a lot of things where people might have a pet memorial, or they might build a library. We had a lot of great science museums and things during the pandemic." —Michael Yngfors, CEO, HIber
This is yet another example of the movement towards "no-code" products and programming, removing the friction between ideas and their execution for people with no programming knowledge.
Speaking of a departure from "traditional" models of gaming, San Francisco-based Osso VR has upped the ante on medical training—building a virtual platform for surgical instruction. Closing $27 million in a recent Series B round, the company enables users to perform surgery on virtual cadavers to train technique, and is working towards incorporating multiplayer functionality so surgical teams can collaborate in real time. Osso VR runs on Oculus Quest 2 through Facebook's "Oculus for Business" program. 
"It's a lot like a symphony, everyone has a different role to play and you need to communicate with each other." —Justin Barad, CEO, Osso VR
For those curious what this would look like, check this out: 
As someone currently nursing a shameful defeat in a "friendly" company game of Halo, the idea of a computer vision auto-aim cheat code sounds pretty enticing. Luckily enough for me and any other would-be cheaters, a new tool uses computer vision to enable "undetectable, unstoppable full auto-aim and full auto-shots" that works on any PC, Xbox, or PlayStation game. Ars Technica, who profiled the sneaky solution, opted to not disclose the product's name because, well, it's pretty unethical. 
"Whatever the case, it's clear external computer vision-assisted techniques are going to continue to be an evolving front in the never-ending battle between cheaters and those that want to stop them. As artificial intelligence techniques continue to develop, it may get even easier for these external tools to disguise their use and harder for anti-cheat algorithms to even detect their existence. The cat-and-mouse battle continues." —Kyle Orland for Ars Technica
See the unnamed offender in action:
Cheat-maker brags of computer-vision auto-aim that works on "any game"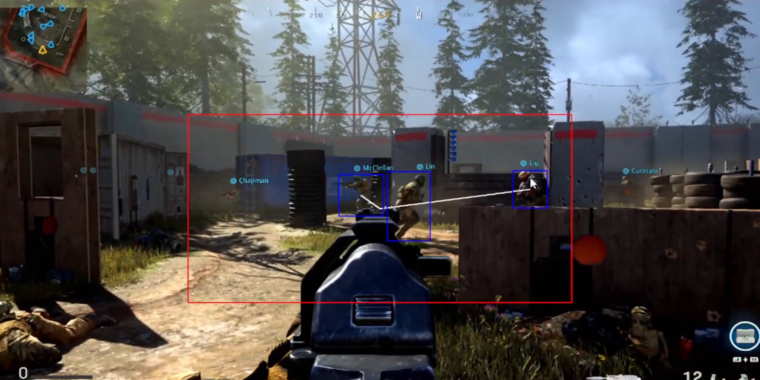 That's all we have for this week's Roundup! As always, see you next Monday.