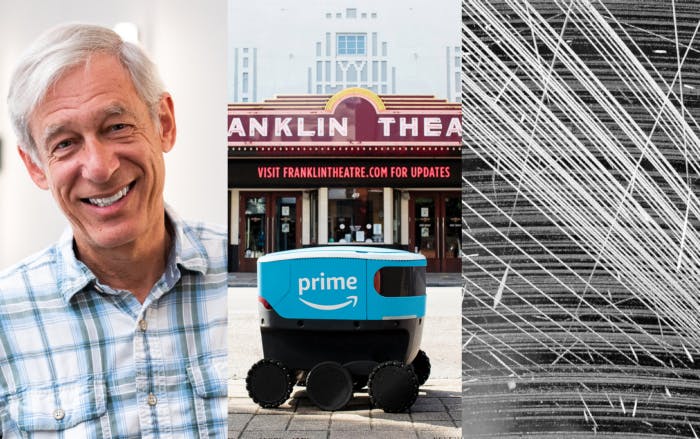 Marc Levoy is building a universal camera app for Adobe — Amazon's Scout robot deliveries expand to additional cities in Georgia and Tennessee — Astrologers are worried about the effects of satellite light pollution; point fingers at Starlink
Well we're halfway through summer, folks. At least for those of us in the Northern Hemisphere. The whole internet's lamenting how lackluster this season has felt (thanks, Corona), but there's some comfort in the solidarity of it all. And as always, at least we have memes to stifle the pain, right?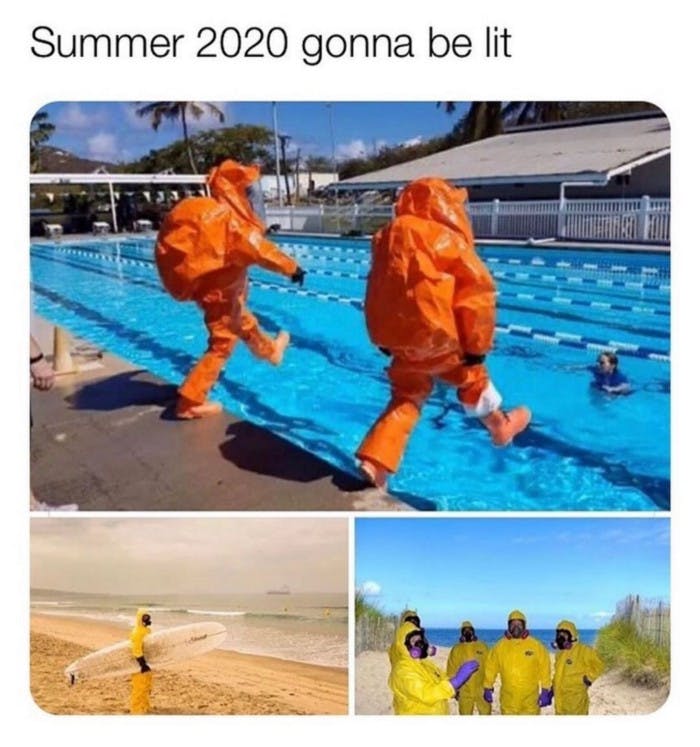 Pools may be closed, but we still have the news to dive into!
5G:
When we're not working on our mask tan lines, Mutable's been busy with the recent culmination of the 5G Open Innovation Lab. Geekwire recently caught up with us and five other participating startups to discuss 5G, the pandemic, and advice to emerging entrepreneurs.
"Don't bother starting out on any entrepreneurial journey unless you know you're doing something you're passionate about, because you're going to be married to that concept for a long time." — Antonio "pelle" Pellegrino, co-founder & CEO, Mutable
Startup founders at new 5G Open Innovation Lab explain how they've adjusted to the COVID-19 crisis
Mark your calendars, because AT&T is set to roll out 5G to wireless consumer and business customers on August 7th!
But should we wait to celebrate? The Verge notes that providers like AT&T and Verizon have been reprimanded in the past by the National Advertising Review Board for misleading marketing — everything from indiscriminately branding smartphones with "5G E" to exaggerating how widespread availability will be.
Nevertheless, with AT&T being the United State's largest carrier, this represents a major milestone for the future of 5G in the country.
"Our strategy of deploying 5G in both sub-6 (5G) and mmWave (5G+) spectrum bands will provide the best mix of speeds, latency and coverage that are needed to enable revolutionary new capabilities to fuel 5G experiences for consumers and businesses," — Chris Sambar, Vice President of Technology Operations, AT&T
AT&T says its 5G network is now available nationwide
Nokia, in turn, has its eye on industry: rolling out its new 5G stand-alone wireless network for industrial clients last Tuesday.
"We're paving the way to accelerate digitalization in the most demanding of use cases such as automotive manufacturing, where cloud, robotics and autonomous machine operations create mission-critical demands for reliable low latency and high data rates." — Raghav Sahgal, President, Nokia Enterprise
Nokia rolls out 5G networks for industrial clients
The United State's defense infrastructure is also looking for a 5G upgrade, with the Pentagon issuing a call for prototypes to test 5G use cases in select military bases across the country.
"[The prototypes] will help ensure that the US continues to have the technical edge on the battlefield. We strongly encourage our members to collaborate and respond to these important [solicitations] to support innovation and make sure that the United States remains a global technology leader on 5G." — Joseph Dyer, Chief Strategy Officer, National Spectrum Consortium
Deputy Undersecretary of Defense for Research and Engineering Lisa Porter laid into the significance and nuance of 5G and security when the DoD first alluded to their plans to incorporate the technology last fall, emphasizing that as connectivity grows increasingly ubiquitous, new vulnerabilities will need to be mitigated.
Telcos & ISPs:
The global momentum towards securing 6 GHz band for WiFi just scored a victory–– well, in the UK. British regulator Ofcom released 500 MHz of spectrum for indoor WiFi use. The move is set to enable a massive increase in WiFi data rates for users––up to five times faster than what's currently experienced.
"All in all a historic day and huge win for Wi-Fi and the future of unlicensed wireless in the United Kingdom." — Claus Hetting, CEO & Chairman, Wi-Fi NOW
While we're quick to exalt the myriad of ways in which modernizing telecommunications technology and infrastructure benefits the masses, it would be a mistake to ignore those who potentially lose out or are left behind. This is a topic we believe hasn't gotten enough attention, and are committed to exploring further — so look out for that in the near future!
On that thread, T-Mobile is looking to kick non-VoLTE compatible devices off the network in early 2021. Their position is that phasing out older technology will benefit the majority, and while true, it arguably isn't a "great look."
"Forcing people to purchase new phones during a global pandemic when unemployment in some areas of the United States is as high as 20% still isn't a great look, but it remains to be seen if T-Mobile will offer discounts on new devices for affected customers." — Corbin Davenport, Android Police
What's your stance? Should Grandpa suck it up and finally go out and replace his fossil of a phone already, or is T-Mobile being exclusionary by pulling the plug?
https://www.androidpolice.com/2020/07/23/t-mobile-will-soon-require-volte-on-all-phones-incomopatible-devices-kicked-off-january/
Star-gazers are shaking their proverbial fists at SpaceX as Starlink satellites obstructed the view of the Comet NEOWISE this past week. Astrologers are growing increasingly wary about the potential harm of "space pollution." esthetics aside, the overabundance of light has real effects on our own biosphere back on Earth — like the potential to bring about an "insect apocalypse" (yikes).
"I personally think that if no action is taken, it will be the end of astronomy as we know it from the surface of the Earth." — Daniel López, Astrophotographer
The concerns haven't fallen completely on deaf ears: SpaceX, in turn, has worked to reduce the amount of light reflected from their antennas. Skeptics, however, are unconvinced that these efforts will be enough to quell the disruption.
As satellite internet promises to bring high-speed connectivity to the masses, however, it may just be that the average earth dweller will be more compelled by the glow of their devices than the orbiting masses enabling them.
SpaceX Satellites Ruin Perfectly Good View of Comet NEOWISE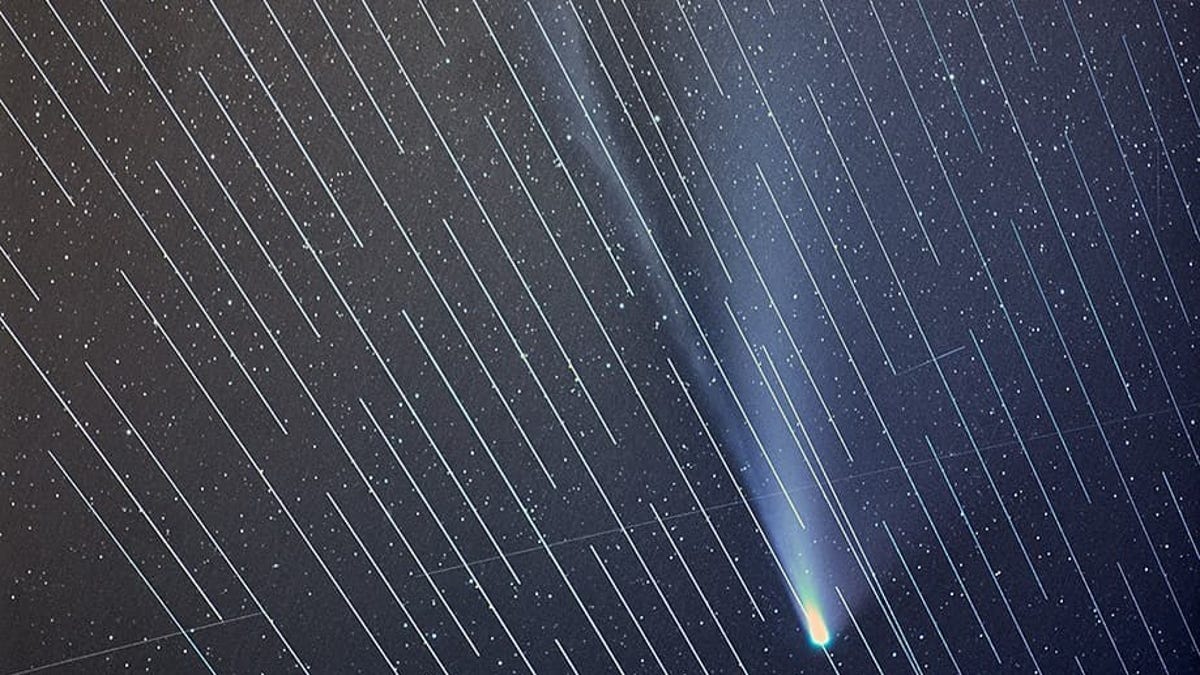 Light pollution isn't the only threat Starlink is posing — many are concerned that the promise of widely available satellite internet will usurp fixed internet providers. The prevailing consensus is no. Or at least, "not yet." This is largely due to the glaring lack of information about Starlink services, some doubts as to the reliability of antennas, as well as subscriber capacity constraints. Time will be the ultimate judge on this one.
"Terrestrial ISPs probably shouldn't be very worried about this." — Tim Farrar, Analyst, TMF Associates
SpaceX's Starlink isn't a threat – at least not yet | Light Reading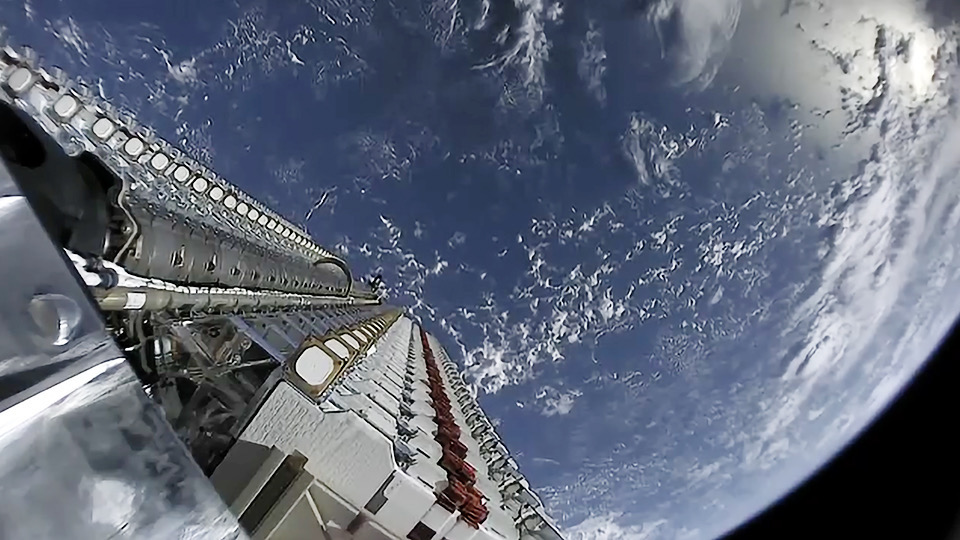 AI & Autonomous Driving
Marc Levoy, the researcher behind the AI and machine learning technology powering Google's Pixel camera has recently joined forces with Adobe to build a universal camera app. While Adobe is leaving us in the dark as to what exactly "universal" means, the pairing is no doubt monumental — and worth keeping an eye on developments.
"Levoy's efforts arguably inspired Apple, Samsung, and others to beef up their computational photography chops." — Jay Peters, The Verge
The brain behind the Google Pixel camera is building a universal camera app for Adobe
Autonomous driving continues to gain some momentum, with startup AutoX landing a testing permit in California and Aurora expanding their fleet to Texas. Both note the role of the pandemic as an essential driver of growth within the logistics and ground transportation market, though somewhat paradoxically the economic downturn has simultaneously resulted in layoffs and stalled launches.
No surprise, safety concerns (and subsequent reassurance) dominate the conversation.
"Because of its open regulatory environment and pro-business policies, it is an ideal place to work with our government partners and bring innovative technologies that will decrease road fatalities and make our roads safer." — Aurora blog post
So delivery robots are pretty par for the course at this point, but we can't help but cover them. The startup Kiwibot recently expanded their service to San Jose, now building out a business-to-business API enabling any business to connect to its platform.
"We started thinking instead of building the robot infrastructure and the marketplace, let's focus on just building the robot infrastructure and partner with companies that already have that in mind." — Felipe Chavez, co-founder and CEO, Kiwibot
The bots aren't fully autonomous — human supervisors are there to take over and direct the machines in certain scenarios, like staging a photo op.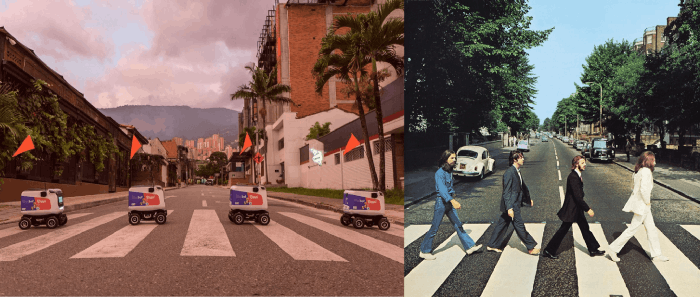 AI meets Abbey Road
Amazon's Scout is also rolling-out (pun intended) in new cities across the US. While proven an invaluable tool for contact-less deliveries amidst the COVID-19 pandemic, some are less welcoming to the idea of robots disrupting already crowded streets (well, once crowded). Safety concerns are also paramount, which the company has attempted to assuage.
"Amazon Scout delivery devices are built to be inherently safe. They're the size of a small cooler and move at a walking pace. Each delivery device can navigate around pets, pedestrians, and other objects (including surfboards!) in its path." — Amazon
Cloud Gaming:
Is Microsoft looking to finally break up with Amazon? They're certainly cutting back on their dependence on their competitor's cloud services, evidenced by their resolve to transition their popular game Minecraft from AWS to the Azure cloud by the end of the year.
"Moving more of its own software to Azure can help Microsoft make the case to customers that it doesn't look anywhere else for computing, storage and networking resources to deliver its online services." — Jordan Novet, CNBC
Microsoft-owned Minecraft will stop using Amazon's cloud
Comcast is set to relaunch the video game TV network G4 in the new year on their sports and esports division, Spectator.
To no one's surprise, twitter didn't hold back in bringing up how much dust the network has gathered since it stopped operating six years ago.
Roasting aside, the resurrection further reinforces the mounting recognition of esports (and subsequent broadcasting of) as a massively lucrative market — especially with the growing adoption of advanced gaming technologies and connectivity.
Gamers will also be happy to hear that there's talk circulating of the new Playstation's potential for backward compatibility cloud gaming; allowing users to play older games through a variety of devices. While all information on the matter stems from a patent recently taken out by Sony, it holds a lot of promise for those wanting to keep classic titles alive through one platform.
On the topic of cloud gaming, our friends at Blacknut recently launched their app in Israel through their partnership with leading telecommunications group, Partner TV. Subscribers will be able to stream over 400 games to their devices.
"With 2.7 billion people playing games, gaming is one of the most popular forms of online entertainment meaning there's a huge opportunity for telecommunications companies to launch their own gaming services built specifically for a family-orientated audience." — Olivier Avaro, CEO, Blacknut
The deal illuminates the growing popularity of cloud gaming services around the world, which has been largely enabled by higher broadband speeds. As 5G becomes more ubiquitous, we're sure to see this trend accelerate even more.
Blacknut & Partner TV to Launch New Cloud Gaming Service in Israel Offering Hundreds of Games for the Whole Family - Blacknut
Business Developments:
Though Chinese firms are currently dominating the smartphone market in India — selling eight out of every ten phones — a recent partnership between Google and Reliance Industries threatens to shake things up. Google has set out to build an operating system to power Reliance-designed smartphones compatible with 4G, and maybe even 5G, introducing a new low-cost option that will drive competitors' prices way down. We'll see how far Google's $4.5 billion investment, combined with their reputable brand name, goes in disrupting the market.
"If history is anything to go by, Reliance will undercut other brands and pose a real threat to the low-end smartphone market." — Rushabh Doshi, Canalys
Reliance-Google smartphone deal in India threatens Chinese firms
A recent Forbes article profiled HPE and Hewlett-Packard's transition from selling datacenter infrastructure to offering software solutions, including two recent announcements: HPE Ezmeral, a new software portfolio covering IT automation, container management, operations, data fabric, security, and cloud cost control; and HPE GreenLake cloud services for containers, ML ops, DP, network as a service and Aruba edge services platform as a service.
CEO Antonio Neri has said that the pandemic made HPE's edge-to-cloud Platform-as-a-Service strategy more compelling for customers and partners.
"We said three years ago that the enterprise of the future will be edge-centric, cloud-enabled and data-driven. Guess what? That is exactly what it is. We are living now in a massive distributed edge world with more and more people working from home. The enterprise is going to be more distributed than it ever has before." –Antonio Neri, President & CEO, Hewlett Packard Enterprise
HPE Moving Quickly To Become A Cloud And Services Play With The Help Of 8,300 Software Engineers
Edge Computing:
We left the Edge for last this time in order to give more weight to SDX Central's Matt Kapko's analysis of the existential threat facing Edge solution providers.
The root of the issue? Supply grossly outweighs demand, currently. The Edge market is flooded with new players, and smaller vendors may lose out to larger counterparts who boast the advantage of scale and preexisting customer relationships. But while cloud provider giants like AWS, Microsoft Azure and Google Cloud are best positioned to dominate the Edge market, the true "edge" may lie in startups with competitive advantage in tailoring solutions to customers' specific needs rather than the "one size fits all" model of hyper scalers.
But it's not like we're biased or anything.