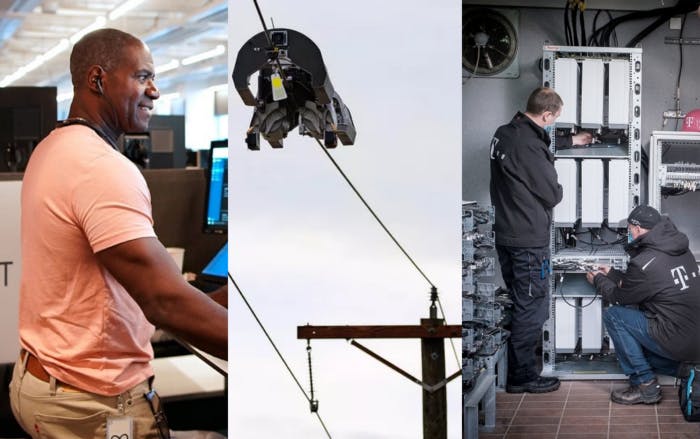 Comcast credits AI software for handling pandemic internet traffic–Facebook's new fiber-spinning robot promises to make internet service cheaper–Deutsche Telekom updates 15K antennas to 5G
Alright, as I mentioned last week, I'm still trying to tweak the format for this publication to make sure that y'all faithful readers get all the information you need without the frills.
That said, let's take a look at what's new in the Telco world this week. Unsurprisingly, Huawei news will feature heavily in this edition, but Verizon has an interesting announcement and cloud gamers might be happy too.
Let's break down those headlines together.
Ok, so lets get it out of the way,
#HuaweiGate:
As everyone knows by now, the Chinese tech giant, Huawei, is seeing more and more doors slammed in its face as countries fearful of its tight connections to the Chinese Communist Party start seeking alternatives.
The UK, which after and long and controversial flirtation with Huawei 5G tech finally decided to purge its network, has been in a pickle. Telcos on the Island-nation have announced that it would likely take them years to get rid of all the networking hardware they've installed––which British Prime Minister BoJo feels is too long.
So the brits are now looking just across the Sea of Japan for answers. A Japanese business newspaper reported recently that Britain named NEC Corp and Fujitsu Ltd as potential alternative suppliers to Huawei.
UK asks Japan for Huawei alternatives in 5G networks: Nikkei
For more of an insight on what the whole fuss is about over #CancelHuawei, the BBC has a very good primer on the company, its long history and shady relationship with the authorities in Beijing that is absolutely worth checking out.
"But if you're a Western government that has key national security to protect — why would you allow this access to a company that is in the political system that China is in?"–– Danielle Cave, Australian Strategic Policy Institute
Huawei: The world's most controversial company - BBC News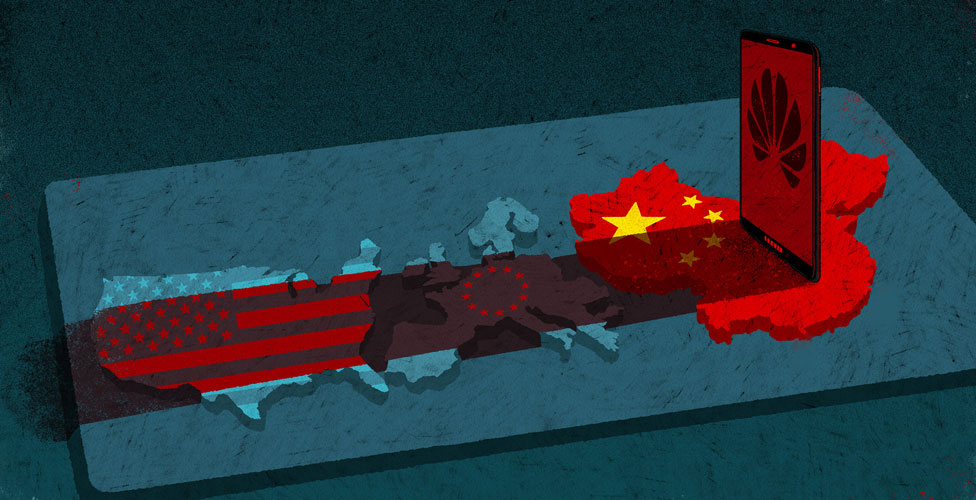 So what's the end-game for the West's crusade against Huawei? It's pretty clear that the most zealous campaign agains the company has been conducted in the US––which also happens to be a geopolitical and technological rival––other Western states have reacted with various degrees of urgency, however. Still, the EU is also in the midst of forming a unified policy to protect the continent from Chinese 'state-backed' groups like Huawei. But Europe isn't interested in US hegemony over 5G networks either.
"America wants to prevent China being able to do what America currently does to the rest of the world by controlling the financial system."–Unnamed Official
America's war on Huawei nears its endgame
These developments will be interesting to watch as they progress.
5G & Edge Computing:
Speaking of Germany, the country's largest telco, Deutsche Telekom is (as I reported on previously) fitting out outfitting 15 THOUSAND additional 5G antennas across the country. Interestingly, these rollouts aren't limited to major cities, with rural areas also getting some. Right now, DT's 5G focus is on the 2.1 GHz and 3.6 GHz bands, which complement one another in terms of range and speed. This gives DT four times more coverage of the German population than rival Vodafone.
"The 5G rollout has not been slowed by the COVID-19 crisis. Last month, DT announced that more than 16 million people in Germany can use its 5G network, with plans to cover up to 40 million people by mid-July." ––Monica Alleven, Fierce Wireless
Deutsche Telekom updates 15K antennas to 5G
Meanwhile, Verizon announced a collaboration with Big Blue (That's IBM for you younger readers) intended to foster innovation in 5G and edge computing, leveraging IBM's AI, hybrid multi-cloud, and edge computing skills, as well as Verizon's 5G, MEC, and internet of things (IoT) expertise. This news comes a little over six months since the company announced the 5G Future Forum back in January.
"As the Forum's current members are all major players in their respective countries, the group's initial work should pave the way for more consistent edge experiences across significant portions of the world." –Jeremy Horwitz, Venture Beat
Dish, America's newest player in 5G is revving up for deployment. The telco is is hiring hundreds of new employees in areas ranging from retail managers to tower climbers to core network technicians as it enters the US wireless industry.
"Dish is transforming the future of connectivity. We're building America's first virtualized, standalone 5G broadband network from scratch — with the power to foster some of the fastest, most agile technologies ever conceived." ––Dish Networks
Dish begins staffing up in wireless | Light Reading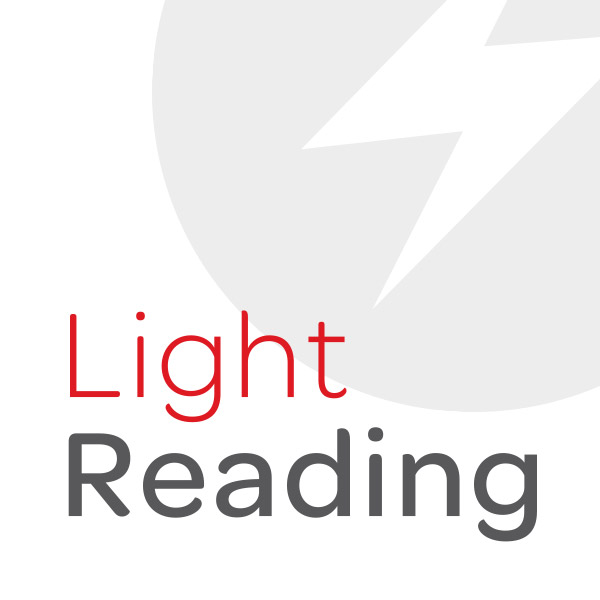 Telefónica, Deutsche Telekom and Vodafone use Blockchain for roaming settlement. The three telecom giants are calling on other providers to join the network of users of Clear's solution, with the hope that automated roaming settlement will provide a boost for new business partnerships to support the new services needed for technologies such as 5G, Edge computing and Internet of things ecosystems.
"Using Clear's solution, operators will now have the ability to transact seamlessly with an ecosystem of partners — a crucial ability in the 5G and Edge ecosystem, in which we foresee significant growth of operators' business relationships and business models."––Johannes Opitz , VP of commercial roaming services, Deutsche Telekom
Telefónica, Deutsche Telekom and Vodafone Use Blockchain for Roaming Settlement
James Urquhart has a pretty interesting look at multiple dimensions of the Edge story through Flow Evolution. Key takeaways are that Edge computing represents a major new architectural option for enterprise computing, but its rapid adoption should not be surprising.
"While I assume that just about any company with distributed physical operations has some form of edge computing today, I would be surprised if more than 30% or so actually have an edge computing strategy." ––James Urquhart, Global Field CTO, VMware Tanzu
Edge Computing and Flow Evolution
But of course, the question you're probably all asking yourselves, dear readers, is "what is the future of Edge computing?", well it just so happens that our friends over at STL Partners have an answer for you, in a piece appropriately titled "What is the future of edge computing?" In it, they conclude that the message from the hyperscalers and other parties is that they have the appetite to do more, and to a large extent it will be up to the telcos to decide whether they will let this happen, or not.
"Despite being much discussed as one of the most promising opportunities for telcos over the next 5 years, there are no guarantees that operators will remain in the driving seat with edge computing." –Tilly Gilbert, Senior Consultant, STL Partners
IoT, Autos & Drones:
You can thank Artificial Intelligence for keeping you working, studying, gaming and subscribing to OnlyFans during the peak times of the pandemic––that's according to Comcast which credits AI machine-learning software for giving the company visibility into its network, adding capacity quickly when needed, and fixing problems before humans notice them.
"We are laser-focused on latency across our network. It's an extremely important metric that we track very closely." — Jan Hofmeyr, Chief Network Officer, Comcast Technology Center
Speaking of AI…
It's finally happening, Facebook is constructing Robots, but not the T–1000 type, just a regular fiber-spinning robot designed to make internet service cheaper. The fiber gets laid right onto medium-voltage power lines.
"Rather than focus on any kind of one-size-fits-all solution, we're looking at building blocks." ––Yael Maguire, VP of Engineering, Facebook Connectivity Lab
This robot crawls power lines like Spider-Man and may help you get internet
While we're on the subject of Terminator analogies, lets talk about drones. awarded over $13 million under the Coronavirus Aid, Relief, and Economic Security Act (CARES Act), money appropriated to save jobs and support the economy during the current COVID-19 crisis.
"Using funds authorized and appropriated under the CARES Act, these DPA Title III investments will further enhance the U.S. warfighter's situational awareness, improve human-machine teaming, and provide engineering support for aiding the integration of sUAS capabilities into DoD programs." ––United States Department of Defense
Another use-case which we're seeing more and more in drone deployment is medical deliveries. Wake Forest Baptist Health in North Carolina announced the use of Matternet's M2 drone system in enabling a new hospital delivery network.
"In collaboration with UPS Flight Forward (UPSFF), the service will use a hub-and-spoke routing model to provide rapid delivery of time-and temperature-sensitive medicines and supplies, including PPE for medical professionals treating COVID-19 patients."––Grey Area News
Streaming & Gaming:
Looks like cloud gaming is finally having its moment –– or at least that's what Axios just discovered, anyway. In a recent report on gaming trends, Axios concluded that the deployment of 5G networking technology (with the inherent benefits of lower lag and jitter) will harness an exposition in cloud gaming revenue in the coming years. We're talking $4.5 billion by 2024 (compared to $500 million 2019).
"Higher broadband speeds and penetration from 5G connectivity will make cloud computing gaming more accessible to the masses." –Sara Fischer, Axios
Cloud gaming is finally having its moment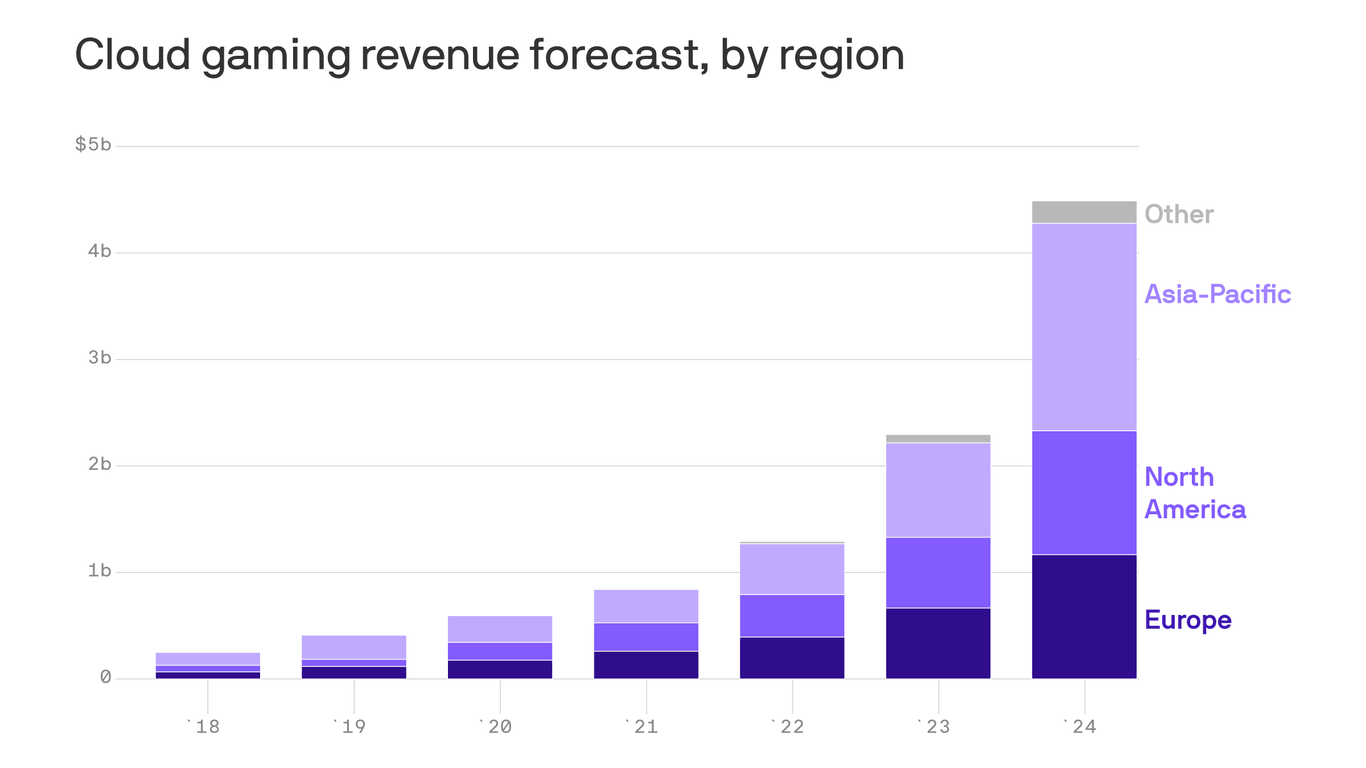 And just in time to take part of this trend (and by that, I mean behind Google, Amazon and Playstation) is Microsoft which will be launching its new cloud gaming service––xCloud––in September.
"Integrating the offer into Xbox Game Pass Ultimate fully commercializes the technology and gives people using it the ability to game with the almost 100 million Xbox Live community of users across console, PC and mobile." –Piers Harding-Rolls, Research Director, Ampere Analysis
Microsoft to launch its cloud gaming service publicly in September
With the rise of cloud gaming, comes ever-more popularity for e-sports, but the question remains: how do you commercialize it? Chinese e-commerce giant JD.com seems to have found a way. It's retail unit just signed a strategic partnership agreement with Tencent's marquee e-sports league King Pro League (KPL). For reference, China is home to an estimated 470 million e-sports consumers.
"The convergence of e-sports and e-commerce is another example of Chinese internet companies trying new ways to monetise the enormous traffic they generate on their platforms as more Chinese go online."––Minghe Hu, SCMP
JD.com joins Tencent to bring e-commerce to China's biggest e-sports league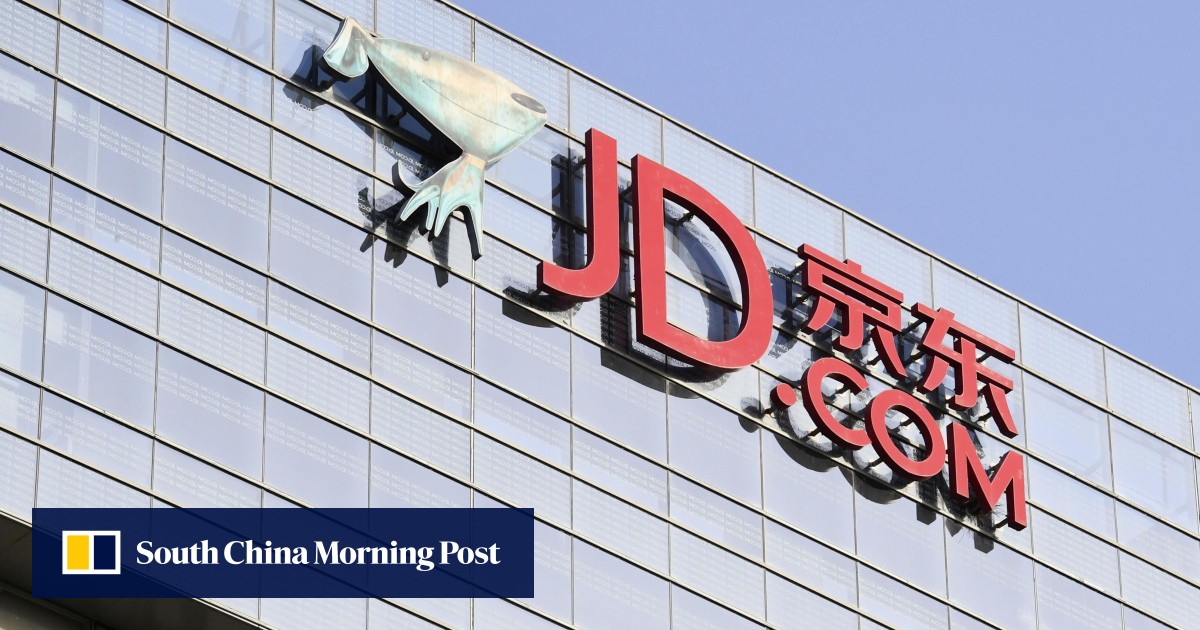 But if streaming e-sports isn't your thing, well, T-Mobile has you covered with a new streaming device its working on designed to pair with Google's Android TV. TVision is a home TV service that costs $90/month and uses a proprietary set-top box to get the service going on your various TVs through the home.
Security & Privacy:
Last week the EU's Court of Justice issued a ruling on the case of examining data transfers to and from the EU. For enterprise customers, Microsoft services can still be used in compliance with European Law, nor does it change data flows for our consumer services. Microsoft announced that it would continue to take steps to stand up for the rights of their customers.
"Privacy is an ongoing journey, and today's ruling is not the final word. Our customers can be assured that we are committed to ensuring their data will continue to flow through our services"––Julie Brill, VP for Global Privacy and Regulatory Affairs, Microsoft
Meanwhile, Wind Tre, an Italian telco just got fined $18.6 million for violating data collection rules set up by the EU's General Data Protection Regulation. The company apparently made use of "illegal data processing" in its promotional activities.
"[WINDTRE's MyWind and My3 apps] were set up in such a way as to oblige the user to provide, at each new access, a series of consents for different processing purposes (marketing, profiling, communication to third parties, enrichment, and geolocation), only to allow them to be revoked after 24 hours."––GDPR investigation
Italy: Garante fines Wind Tre €16.7M for unlawful direct marketing practices, highlights consent violations
Business Developments:
Saudi Arabia's largest telecoms operator Saudi Telecom said on Sunday it would need another two months to complete the purchase of Vodafone Group's 55% stake in Vodafone Egypt. (Vodafone Egypt is the country's biggest mobile operator with 44 million subscribers and a 40% market share.)
Saudi Telecom extends Vodafone Egypt stake purchase for second time
SoftBank Group is looking to potentially sell Arm Holdings or return the British chip designer to the public market through an initial public offering, according to multiple reports.
"If Arm becomes a publicly traded company again, it wouldn't' be a surprise. At its TechCon conference last year, Arm CEO Simon Segars said the company planned to go public again by 2023"––Dylan Martin, CRN
SoftBank Eyes Potential Sale Or IPO Of Arm: Reports
TIM, Telefonica and Claro just put down an officer for Oi's mobile assets according to Reuters which cited filings by the companies on Saturday. he telecom firms did not disclose details of the offer. They said they asked Oi for the right to match potential offers it may have received in the competitive process for its assets. Oi, Brazil's largest fixed-line carrier had approximately 65 billion reales ($12.65 billion) of debt when it filed for bankruptcy protection.
"The transaction, if completed, shall add value to all shareholders and clients by means of further growth, generation of operational efficiencies and service quality enhancement,"–– Official Joint Statement
TIM, Telefonica and Claro present bid for Oi's mobile assets
So that's pretty much what we have for this week. We'll be keeping an eye on developments on the Huawei front per usual, but also future 5G deployments.