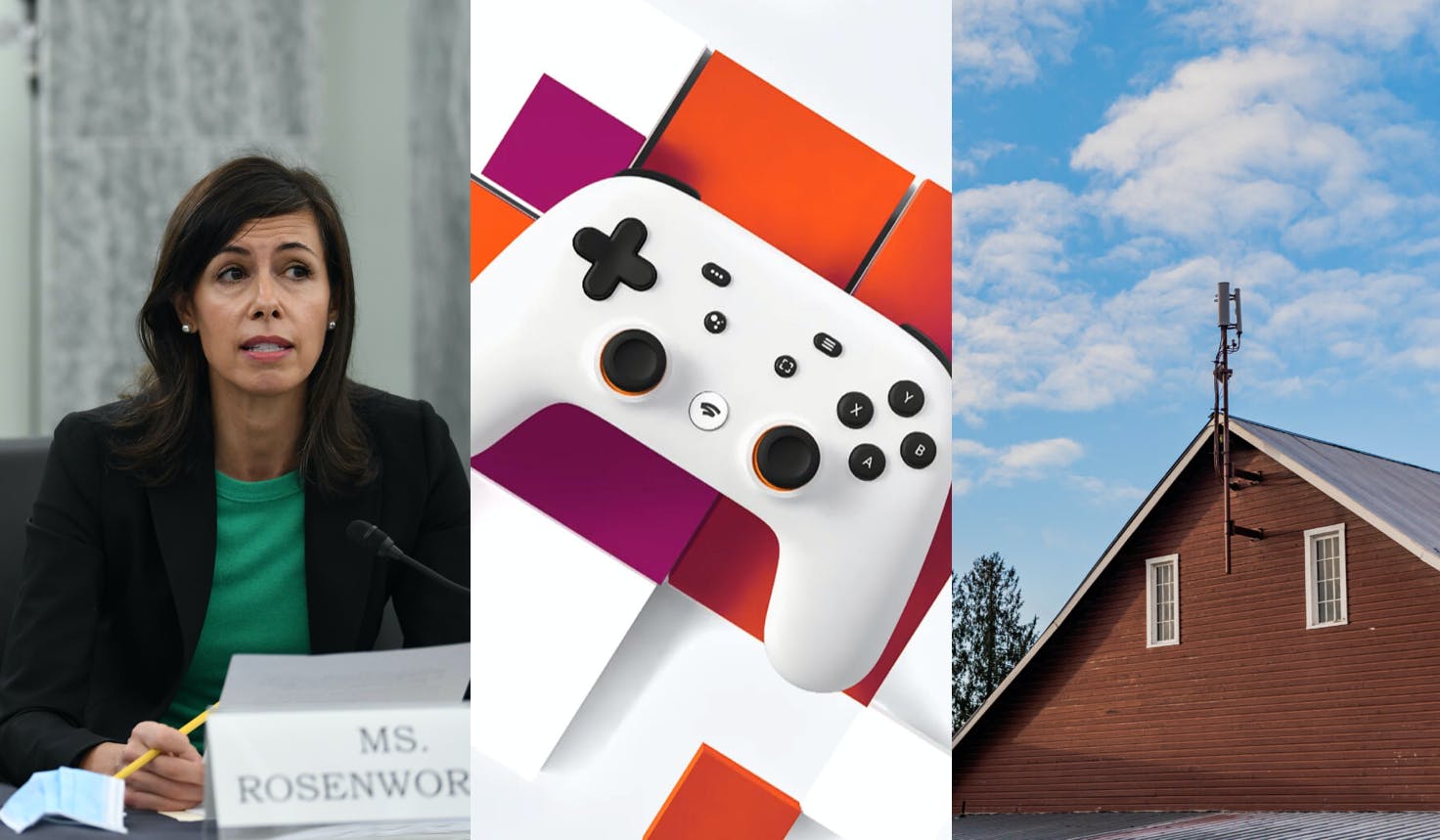 Biden's FCC takes its first steps toward making the internet affordable—Google shuts down internal Stadia game studio—5G Open Innovation Lab opens agritech test sites near Seattle
Bezos steps down, Jassy steps up, Robinhood's under fire, and the invite-only audio chat app Clubhouse was graced by Elon Musk...who also also bought $1.5 billion in Bitcoin through Tesla.
So we don't actually cover any of that. But read on for the other important industry news you might have missed last week while the above dominated headlines:
5G
The 5G Open Innovation lab just kicked off its Agritech test sites in Snohomish County, a farming hub just north of Seattle. The goal of the field lab is to unite growers and distributors with technology companies to develop new capabilities, improve the resiliency of the county's agricultural sector, and minimize future food-service disruptions for consumers and agribusiness. As a member of the program's inaugural cohort, Mutable is proud to be taking part of the initiative alongside other amazing startups. 
"Every modern industry benefits from data and analytics. Agricultural sites typically lack the high-speed Internet access necessary for connecting devices and generating the data growers and industry suppliers need to make real-time decisions for optimal impact. With the support of Snohomish County and our partners, we've proudly built an application development field lab with two dedicated sites through which our ecosystem members, partners, academia, and industry can collaborate to experiment, test, and learn. The outcome is the development of commercial use cases by way of research and innovation that agricultural vendors like John Deere and Cargill, for example, can use today." —Jim Brisimitzis, General Partner, 5G OI Lab
The telco also touched down in Tampa, Florida for the Super Bowl over the weekend, alongside AT&T and Verizon. Though I couldn't tell you which teams were playing—let alone who won—I can say that the top three carriers pulled out all the stops to showcase their 5G offerings. T-Mobile served its "layer cake" service, which couples high speeds and long range through a mixture of low, mid, and high-band spectrum. AT&T extended its mmWave service through the stadium, as well as downtown Tampa, and Verizon poured $80 million into upping its small cell and fiber infrastructure. T-Mobile also scored one of the event's coveted ad slots:
The carrier's full-year 2020 report reflected industry-leading customer growth, with CEO Mike Sievert touting that the company is "pulling way ahead of the pack on what matters." The success came at no surprise.
T-Mobile turns on 2.5 GHz, 39 GHz ahead of Super Bowl LV
In line with FCC rules, T-Mo has remained mum on C-band auction results. AT&T has entered a $14.7 loan agreement with Bank of America to help foot the bill for its newly acquired spectrum.
Cable, Telco, & ISPs
Wasting no time, the FCC recently announced plans to expand the E-Rate program—which offers schools and libraries discounts on the equipment and services needed for internet access—to cover residential connections as well. With millions of students without the access needed for remote schooling through the pandemic, this action couldn't come any sooner. 
"It's clear that a priority for the Biden-Harris administration and its FCC is going to be getting robust broadband to every household in the US. It's a social justice issue, it's an economic issue, it's a healthcare issue, it's an education issue, it's a democracy issue. In other words, broadband internet access enables all of the administration's top priorities." —Gigi Sohn, Distinguished Fellow, Georgetown Institute for Technology & Law Policy
Comcast preemptively announced that it would double download speeds on its budget Internet Essentials package at no extra cost. The $9.95 monthly plan for those on government assistance previously met the bare minimum FCC speed standard of 25Mbps download and 3 Mbps upload—a baseline that's been heavily criticized by proponents of moving towards more symmetrical speeds.  
https://www.vox.com/platform/amp/recode/2021/2/3/22262847/fcc-broadband-affordability-e-rate-comcast-rosenworcel
SpaceX's Starlink has officially reached over 10,000 users, four months into its public beta program. According to its FCC filing, the service is "meeting and exceeding 100/20 Mbps" throughput to individual users"—and deserves to be designated an Eligible Telecommunications Carrier:
"Designating Starlink Services as an ETC is in the public interest because it will enable the company to receive support that will facilitate rapid deployment of broadband and voice service to the Service Areas at speeds and latency comparable to terrestrial systems in urban locations. Starlink Services respectfully requests that the Commission grant this petition by June 7, 2021 in order for Starlink Services to meet the Commission's deadline for ETC designation for the purposes of receiving RDOF support." —SpaceX FCC filing
SpaceX says its Starlink satellite internet service now has over 10,000 users
Vodafone has announced plans to overhaul its technology and IT estate to implement a system that can be used or sold across Europe:
"We'll use standardized platforms and have an integrated organization to make it easier for third-party strategic partners like Microsoft and Amazon to connect with our platform and go across our footprint seamlessly and at speed." —Nick Read, CEO, Vodafone
"We'll use standardized platforms and have an integrated organization to make it easier for third-party strategic partners like Microsoft and Amazon to connect with our platform and go across our footprint seamlessly and at speed." —Nick Read, CEO, Vodafone
Instead of maintaining product and development teams by country, Vodafine would reorganize into more universal centers—moving away from "classic" to "next-generation" telco. 
Vodafone plans one-for-all European strategy to boost profits | Light Reading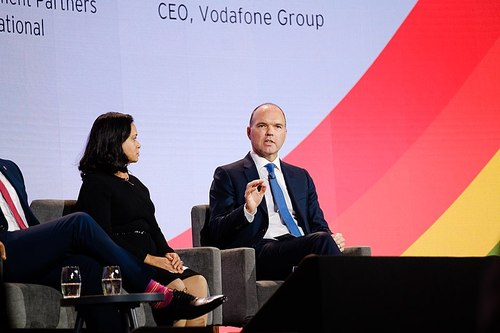 The British telco was also in the headlines alongside Nokia for demonstrating 100Gbps fiber broadband in a new trial, which used new digital signal processing (DSP) techniques to fit more data into a single wavelength.
"If the DSP used in this trial were to be adopted widely, the team says that 50 Gbps and 100 Gbps speeds could become commercially available in the second half of this decade." —Michael Irving, New Atlas
Nokia and Vodafone demonstrate 100-Gbps fiber broadband in new trial
Gaming
In an interview with Game Rant, the head of cloud gaming at Microsoft James Gwertzman gave some insight into what's ahead for the gaming industry. It's long—but dives into everything from the future of machine learning to the history of cloud services. Formerly the CEO of backend gaming services company PlayFab, Gwertzman spoke to the increasing dependency of developers on cloud infrastructure: not just for raw compute or storage, but to run services designed specifically for gaming. There's a growing need for backend infrastructure that supports the online components of games, so that "developers can focus on the good bits and the fun bits instead of focusing on infrastructure."
https://gamerant.com/microsoft-head-cloud-gaming-xbox-james-gwertzman-interview/
If I had a dollar for every time a headline references the imminent takeoff of VR technology...I may just have enough to pick up Apple's new VR headset! The offering will purportedly hit markets as early as next year at the hefty price tag of $3000, featuring an 8K screen in each eye according to insider reports. Though Apple has made its name as a pioneer in emerging markets—its designs revolutionizing MP3 players, smartphones, tablets, and smartwatches—some are skeptical that they would enter the VR market, at least at this stage.
https://arstechnica.com/gadgets/2021/02/new-report-on-apples-vr-headset-8k-in-each-eye-potential-3000-price-tag/?amp=1
A Washington Post feature suggests that the overall pandemic-instigated spending on the video game industry has "trickled down" to virtual reality platforms:
"When my hairstylist brings up [VR game] 'Beat Saber' … I feel like we've finally broken through this important barrier and have gone to a point where [VR is] an accepted mass market technology, like any other consumer electronics devices." —Mike Verdu, VP of Content, Facebook Reality Labs
But spending on VR still only accounts for .4% of the $130.6 billion revenue of the gaming industry, and the medium has a pretty meager user base despite the arrival of more affordable new devices like Facebook's Oculus Quest 2.
https://www.washingtonpost.com/video-games/2021/02/04/virtual-reality-future-games/?outputType=amp
Google has axed its internal game development studio for its streaming service Stadia:
"Creating best-in-class games from the ground up takes many years and significant investment, and the cost is going up exponentially. Given our focus on building on the proven technology of Stadia as well as deepening our business partnerships, we've decided that we will not be investing further in bringing exclusive content from our internal development team SG&E, beyond any near-term planned games." —Phil Harrison, GM & VP, Stadia
VP of SG&E Jade Raymond will be leaving Google, and an additional 150 developers will be affected by the decision across its LA and Montreal locations.
https://www.polygon.com/platform/amp/2021/2/1/22260807/google-stadia-games-shut-down-jade-raymond
Drones & Autonomous Vehicles
Visual analytics platform DroneDeploy has raised $50 million is Series E funding—but not for it's airborne drones, surprisingly! The company has just released a new product, 360 Walkthrough, that captures visual data from the ground level to provide comprehensive insight into industry operations.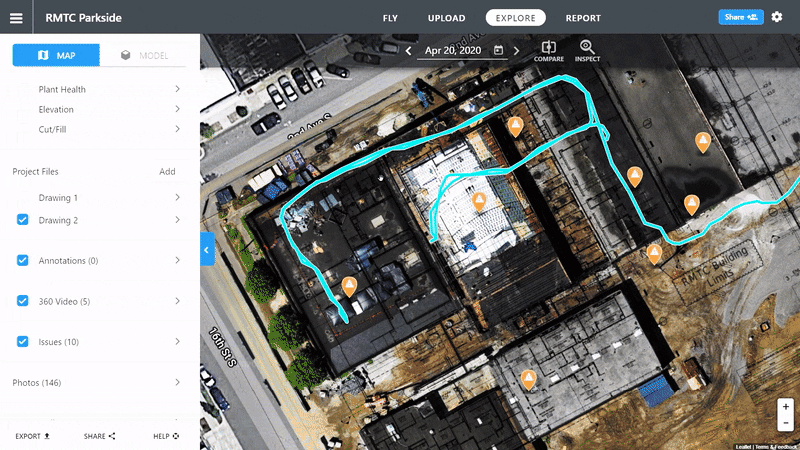 DroneDeploy's software can compare and contrast footage from different dates (VentureBeat)
DroneDeploy raises $50 million to collect and analyze visual data with drones and robots
Zipline announced that it is partnering with "a leading manufacturer of COVID-19 vaccines" (the guess is 50/50) to begin distributing shots to its global partner locations. The initiative, which is set to kick off as soon as April, will utilize a new system that can maintain low temperatures necessary to transport the vaccine. 
"Where you live shouldn't determine whether or not you get a COVID-19 vaccine. Rural areas across the world are being hit hard by this virus." —Keller Rinaudo, CEO, Zipline
The company signed a deal with Kaduna state in Nigeria to deliver the vaccine.
Drones could begin vaccine deliveries in April, firm says
In a big move for the progression of commercial drone applications in Texas, a recent test flight delivered packages from the Fort Worth Airport to a nearby neighborhood—navigating a variety of airspace classifications over the four-mile distance. The flight was the result of a joint public-private initiative to help develop future standards for the FAA in its drone certification guidelines. 
"Our region is uniquely positioned to support companies engaged in the commercialization of new technologies in air mobility. We're proud to support Bell and Hillwood in launching North Texas' first point-to-point package delivery at the MIZ and look forward to their continued leadership in making our region an epicenter for mobility innovation."—Arlington Mayor Jeff Williams
https://www.star-telegram.com/news/business/aviation/article248932299.html
New developments on Apple's autonomous car ambitions: the tech giant is close to finalizing a deal with Hyundai-Kia to manufacture an Apple-branded AV at its assembly plant in West Point, Georgia. The "Apple Car" is set to start production in 2024—though that date is tentative. This could bring Apple into direct competition with Tesla in the $10 trillion mobility market. The company has already added former Tesla employees to its team—including the former VPoEs Doug Field and Michael Schwekutsch. Not much is known about the design, but it is confirmed that the first iterations will not be designed to have a driver.
Apple and Hyundai-Kia pushing toward deal on Apple Car
Google, in turn, has signed a six-year deal with Ford to provide in-car connectivity and cloud services ranging from entertainment systems, AI integrations, as well as supply chain logistics and manufacturing. The partnership falls under Ford's ongoing $11 billion restructuring plan under new CEO Jim Farley, who has criticized the company's past tendency to tend to the "generic."
"One of the most important parts of our strategy is to partner. That means that we have to get out of the business of doing generic things that we do not add value, like navigation systems and a lot of the in-car entertainment experience. We were spending hundreds and hundreds and hundreds of millions every year, keeping up with basically a generic experience that was not competitive to your cell phone." —Jim Farley, CEO, Ford
Ford shopped around before deciding on Google—with the key factor in Google's favor being its robust cloud services. Farley points out a key development in the auto industry: a new loyalty model rooted in digital connectivity; in-car connectivity as a service akin to an Amazon Prime. 
"It's a tremendous opportunity. Bigger than electrification. All the digital capability and conductivity and the digital ecosystem outside of the vehicle are all coming together to a loyalty model, where people will have a much more difficult time switching brands."—Jim Farley, CEO, Ford
Ford and Google sign six-year deal for in-car connectivity and cloud services
Adding to Ford's hefty restructuring budget is its new commitment to electric and autonomous vehicle investment: weighing in at a healthy $29 billion. $7 billion of that sum will be dedicated to AVs, with the other $22 billion focused on its plans to produce both hybrid and fully electric vehicles. Ford isn't the only legacy American automaker with such ambitions: GM announced last year that it would spend $27 billion on electric and AVs through 2025, with European competitors Mercedes-Benz, Volvo, and Volkswagen pledging to produce electrified versions of all its cars—and even phase out gas-only offerings entirely. 
Ford commits $29 billion to electric and autonomous vehicle development
With all of these new EV's about to hit the streets, oil moguls Total, BP, and Shell are nabbing assets across the EV charging value chain. Shell recently agreed to purchase Berlin company ubitricity's network of over 1,500 charging points across Europe. What implications does this have for Shell's bigger picture energy strategy?
"While top leaders at [Shell] plan to accelerate spending into cleaner businesses, they are also wary of abandoning lucrative legacy hydrocarbon divisions too soon...demand for petrol and diesel is expected to remain robust for decades to come." —FT
That's a wrap on the Roundup—be sure to check in next week!