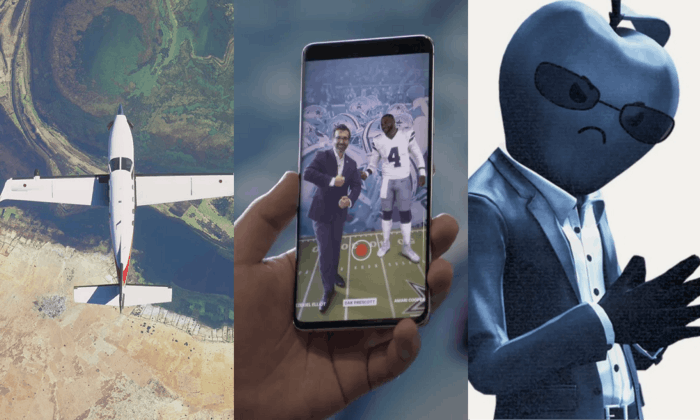 Microsoft releases their next-generation Flight Simulator — AT&T Business CPO Mo Katibeh using the AR "pose with the pros" 5G fan experiences tech at the AT&T stadium — Epic Games takes Apple to bat in an app store dispute over Fortnite
Between the 'Apple vs. Epic Games' showdown and Microsoft's new Flight Simulator — gaming pretty much dominated the news cycle last week. At least, amongst the sources we've been watching. Read on if you're curious about the latest Clash of Tech Titans!
But as always, let's kick things off with 5G.
5G
Verizon finally decided to read the room, saw that they were the only US provider planning on charging extra for 5G, and decided to scrap their proposed $10 per month extra fee. Mike Dano of Light Reading makes a good point: the move signifies that, despite their massive investment into building out 5G infrastructure, operators won't be making any additional revenue from consumer use. The real money lies in enterprise applications.
Verizon kills plan to charge $10/month for 5G | Light Reading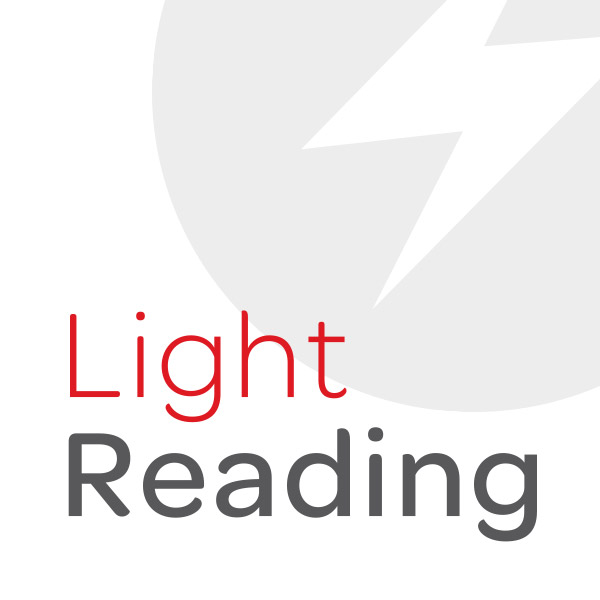 While US consumers may not be paying extra for 5G (unless you count the billions in FCC subsidies), prospective users are nevertheless critical when performance doesn't align with operators' (oft lofty) claims.
Wall Street Journal tech columnist Joanna Stern decided to put 5G connectivity to the test in the "5G RV Challenge" — 24 hours living in an RV adjacent to a Verizon 5G small cell, connecting a myriad of devices through a Verizon OnePlus 8 5G smartphone hotspot. While the results were impressive, the experiment highlighted criticism of the limitations in range of Verizon's mmWave spectrum-only model.
"Finding the optimal and fastest 5G connection is like searching for a Tic Tac in a Target." — Joanna Stern, Tech Columnist, Wall Street Journal
However, Verizon remains adamant that they will be able to expand their signal across wider geographic areas through use of Dynamic Spectrum Sharing (DSS) technology.
Stepping into the Huawei-shaped void in 5G network equipment is Samsung, which has already deployed networks for carriers across North America, Japan, and New Zealand among other countries.
Now, the South Korean firm is collaborating with Qualcomm to create 5G small cells for Verizon based on 28GHz mmWave technology. Maybe this will help quell criticism of Verizon's low coverage as they're deployed across the US?
A recent interview with AT&T Business' Chief Product & Platform Officer Mo Katibeh dives into what kind of business applications of 5G we can expect to be seeing in the near future — and it's pretty exciting.
This is especially true for healthcare and hospitals; finite locations that will be able to effectively leverage 5G within four walls, so to speak. Coupled with edge computing, hospitals will be able to power a network of IoT devices while maintaining high speeds and low latency, enabling solutions like more efficient MRI machines and connected ambulances. Lower-cost experiences and more lives saved? A win-win.
Katibeh ends the interview by highlighting a key paradigm: just as 4G LTE facilitated the innovation of now commonplace applications like Uber and Airbnb, the proliferation of 5G will give rise to new apps that, in no time at all, we won't be able to imagine a world without.
"Extraordinary individuals that are at home in their garages are creating new companies that are going to take advantage of 5G to create the next Waze, the next Airbnb, the next connected cloud experience. And I can't wait to see what they come up with over the course of this next decade." — Mo Katibeh, Chief Product & Platform Officer, AT&T Business
How 5G is actually going to make a difference for businesses
Edge
KubeCon EU took place last week, and Rancher Vice President of edge solutions Keith Basil spoke about the security implications of "cluster sprawl" resulting from a surge in Kubernetes deployments.
"The Kubernetes cluster as we know it, is no longer in the data center." Keith Basil, Vice President of Edge Solutions, Rancher.
Rather than the general-purpose, large-scale Kubernetes clusters of yesteryear, there is a trend towards managing hundreds to thousands of "micro-clusters." Despite their usefulness, these edge deployments leave the whole system vulnerable to threat. Rancher's response to this is developing their own open-source management tool, Fleet (in line with the nautical theme, of course!)
"Traditionally, Kubernetes clusters were treated as pets. Fleet represents a transition to managing clusters as cattle." —Rancher blog post
This represents a big move: taking Kubernetes from Cloud to Edge.
https://thenewstack.io/kubecon-eu-surge-of-kubernetes-edge-deployments-leads-to-cluster-sprawl/
Data center companies are also moving to the edge, evidenced most recently by EQT Infrastructure's acquisition of EdgeConneX. EdgeConnex CEO Randy Brouckman, who will stay on as lead after the deal is closed, contends that the influx of financial resources will enable the company to accelerate their plans to expand in data centers around the world.
This development starkly contrasts with their position in early 2019, where they were adamantly "not for sale." Guess not.
EQT to acquire EdgeConneX | Light Reading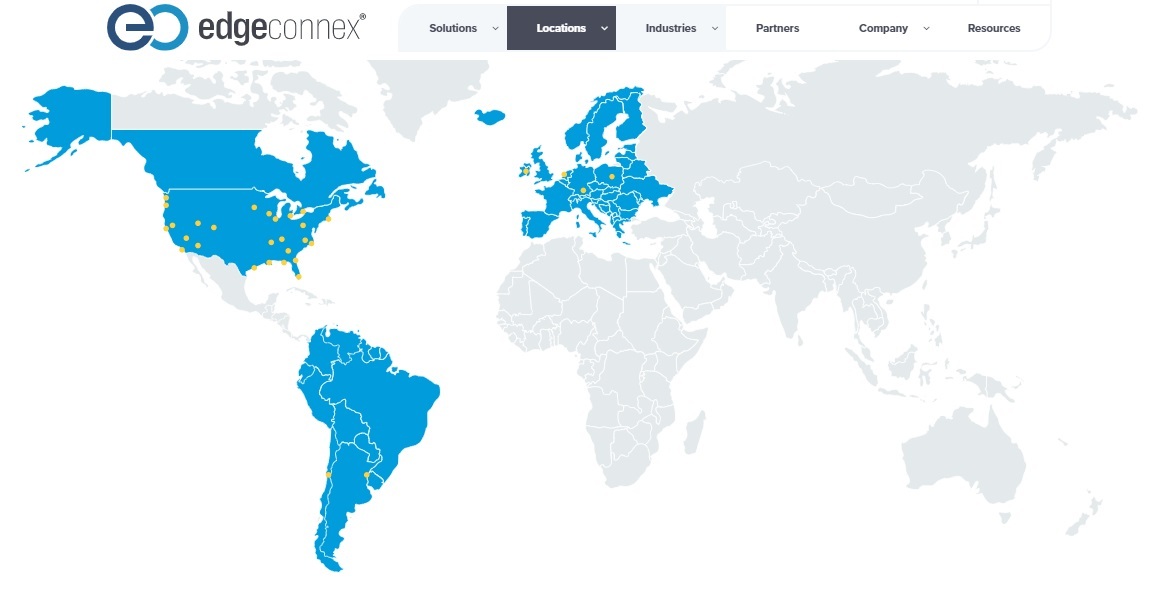 Telcos, ISPs & Cable
After discovering the nifty map of worldwide data pricing linked below, I couldn't help but compare everywhere I've lived and paid for cell plans. My suspicions were confirmed: Canada is the absolute worst, weighing in at 209th out of 228 surveyed countries for most expensive gigabyte of data. If you're also a resident of North America and want to feel bitter about paying some of the highest cell phone bills in the developed world, then this resource is for you!
The paltry $30 for 250 megabytes plan I scraped by with in Vancouver, BC is but a mere memory now that I reside comfortably in Armenia (number 42 on the list). Here in Yerevan, I joyfully hand over 3000 dram a month — that's $6 — for six gigs of data.
Why, pray tell, was I was spending five times more in Canada for the equivalent of ~4% of the data I'm getting here in Armenia?
With all the angst out of my system, I can acknowledge that a multitude of factors come to play in determining the cost of mobile connectivity. In the case of Canada, geography is frequently cited. The more expansive the country, the higher the network operations cost. Simple.
That explanation falters, however, when comparing Canadian prices to Australia — a fellow massive country with distributed population — which are considerably lower. Like less than thirty cents for a gigabyte of data lower. I guess it's no coincidence that Canada's 'Big 3' providers Rogers, Telus and Bell have been used to exemplify Oligopolies on financial website Investopedia.
See for yourself:
Worldwide Mobile Data Pricing League | Cost of 1GB in 230 countries - Cable.co.uk
Gaming
We live in a world where over three billion people play video games, be it on a console or mobile device. That's about 40% of the population partaking in a pastime once thought reserved for reclusive nerds (well maybe 40% of us are reclusive nerds, but I suppose that's somewhat subjective). Whether it's Candy Crush or Call of Duty, gaming's here to stay: and the market is responding in turn.
As gaming becomes increasingly internationalized, so have the demands on servers to maintain low latency while hosting multiplayer games across vast geographies. Google recently introduced a revamped version of their open-source game hosting platform Agones, built on top of Kubernetes, to tackle this problem. Still in beta, the Game Servers service is designed to easily manage global, multi-cluster game server fleets — a literal game-changer for developers looking to enable enhanced experiences for distanced players.
"Gaming is a global business and Google Cloud's priority is to help developers around the world solve their infrastructure problems so that they can spend more building great cross-platform gaming experience, and less time managing infrastructure. Google Cloud believes in un-opinionated services that leave the 'secret sauce' that makes a developer's game unique to them, while we take care of the underlying infrastructure." — Rob Martin, Chief Architect, Google Cloud
Google unveils Game Servers in beta, for hosting global, multi-player games | ZDNet
Despite Nvidia's recent focus on data centers, the company is still thoroughly entrenched in gaming: releasing their GeForce Now cloud gaming service for Chrome OS last week. No downloads are needed — games run directly on the browser.
The service enables users to play an expansive catalogue of supported titles across nearly any device, at PC gaming rig quality. Yes — even everyone's favorite, American Truck Simulator.
A journalist for The Verge recently put it to the test, playing on his wife's "beat-up Samsung Chromebook Plus." Its performance was impressive, and you can check out his detailed commentary below.
Nvidia's GeForce Now cloud gaming service is available on Chromebooks
Despite the growing popularity of cloud gaming services, the newest edition of Microsoft's cult classic Flight Simulator will spur just over two and a half BILLION in PC hardware sales, estimates Jon Peddie Research (JPR).
"Flight simulators are incredibly demanding on processing capability and reward high resolution, large displays, and VR use. When new flight simulators are released, the hardware to run them at max settings and performance does not even exist yet. This creates a situation of constant hardware demand over the life of the title as fans chase the best experience." — Ted Pollack, Senior Game Industry Analyst, Jon Peddie Research
Though that figure is massive, it's largely warranted by the loyal fanbase of the game willing to stock up on new CPUs, GPUs, monitors, throttles, rudder pedals, and for the most dedicated — simulation seats and VR gear. Glimpsing the gameplay, it's easier to understand why:
How Microsoft Flight Simulator could spur 'billions' in PC hardware sales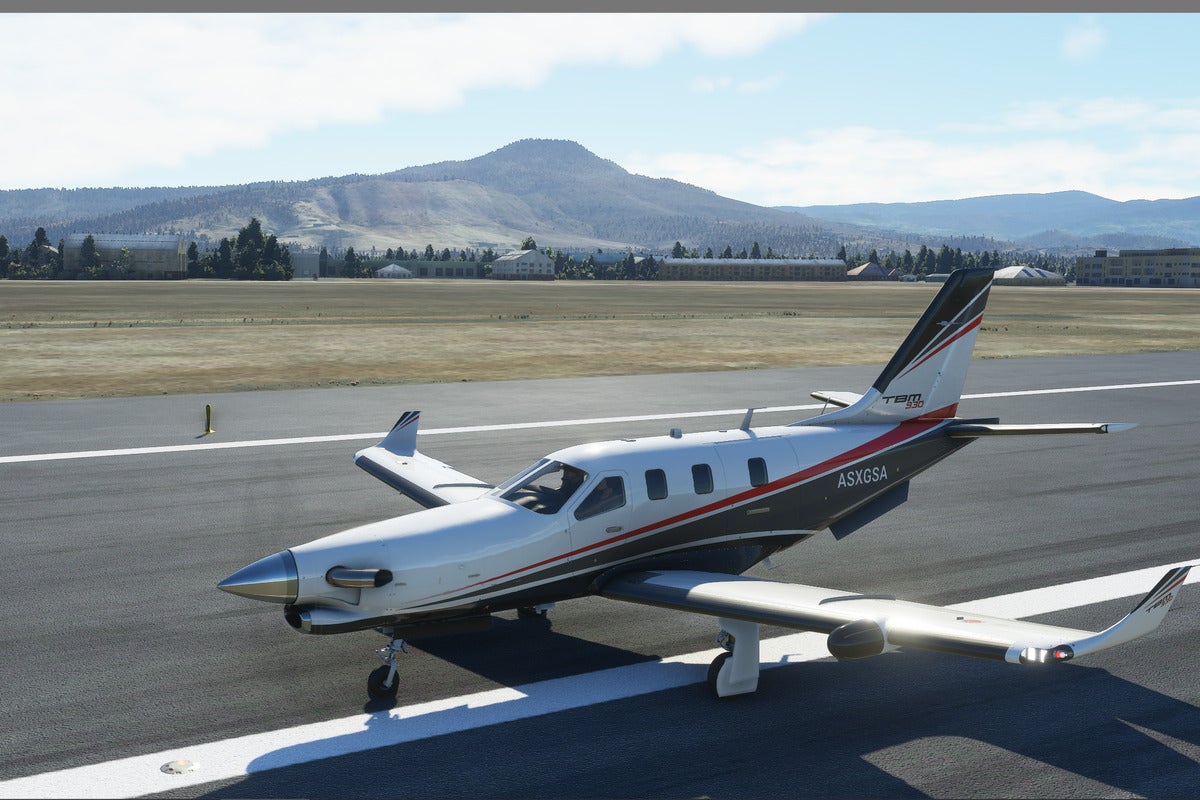 That being said, the significance of Microsoft's Flight Simulator soars way past how much money aviation aficionados are willing to drop on it. Writing for Protocol, Seth Schiesel contends that Microsoft's ability to create a "digital twin" of the Earth — the most realistic model ever created — signals that the company is miles past it's competition in rallying different departments and technology towards one common application.
"Microsoft created its own gaming operation more than 20 years ago in part because the company recognized that gaming presented an opportunity to bring together various esoteric technologies in a way that everyday people could understand. . . Even now, most normal folks have no real idea what "cloud computing" or "machine learning" or "photogrammetry" mean. As they soar over the Kalahari, Hong Kong, Paris, Mumbai or Brooklyn (as they actually sit at home in quarantine), they won't have to. What they will understand is that Microsoft made it possible." — Seth Schiesel, Protocol.
Why Microsoft's new Flight Simulator should make Google and Amazon nervous
If you haven't been following the recent drama between Epic Games and Apple, here's the Sparknotes version: earlier in August, Apple deleted Epic's popular game Fortnite after Epic violated the app store's terms of service by adding a direct payment mechanism at a reduced price — effectively cutting Apple out of sales. Then, Epic Games sued Apple (and Google, who also dropped them from its Play store) for antitrust violations. Fun!
Check out Epic's Orwell-inspired response, a parody of Apple's iconic 1984 commercial highlighting freedom and consumer choice.
Things then escalated even further, with Apple responding to the lawsuit by revoking Epic's permission to develop tools for iOS and Mac, effective August 28. Apple, as demonstrated below, is completely unsympathetic to the mutiny.
"In the wake of its own voluntary actions, Epic now seeks emergency relief. But the 'emergency' is entirely of Epic's own making. Developers who work to deceive Apple, as Epic has done here, are terminated." — Apple
What do you think? Should Apple #FreeFortnite, or should Epic own up to the consequences of their brazen actions and comply with the agreed upon guidelines? Follow the latest updateshere.
Apple says Epic is 'putting the entire App Store model at risk'
Who are the winners of the whole ordeal? The owner of whoever's iPhone gamers are desperate enough to buy for ten grand. Which begs the question: are we living in 1984 or Brave New World?
iPhones with 'Fortnite' installed are listed for as much as $10,000 after Apple pulled the game from the App Store
Autonomous Vehicles & IoT
While New Hampshire legislators were busy regulating flying cars a couple weeks ago, others are asking why autonomous vehicles aren't yet ubiquitous on our roads. John McDermid, Director of the Assuring Autonomy International Programme at the University of York, explores five key reasons why: unreliable sensor technology, lack of consensus around machine learning algorithms, uncertainty surrounding the safety of software updates, no system-wide standards and regulation, and finally — the issue of social acceptability, or current lack thereof. Simply put, the road to level 5 autonomy is going to be a long one.
"The public needs to be involved in decisions about the introduction and adoption of self-driving vehicles. Without this, we risk the rejection of this technology." — John McDermid, Director, Assuring Autonomy Programme, University of York
A new long-range Bluetooth beacon launched by Texas-based Apptricity is set to shake up the IoT connectivity sphere, blazing past all other rivals on the market and claiming 90% lower deployment costs over LTE and satellite.
"Many of our global customers were struggling with the range and costs of connecting most of their IoT assets, so I challenged our engineers to develop a lower-cost Bluetooth tracking solution that could cover at least 10 miles. They exceeded expectations. We were able to pick up the signal from over 20 miles, and are working with our engineers to see how much further we can take this technology." Tim Garcia, CEO, Apptricity
Already partnered with Verizon and security firm Brinks, the solution is being pitched to both commercial and public sectors, and Apptricity is adamant that their technology will enable a new generation of applications never before considered feasible.
"We do not take suing the government lightly."
Newest in the TikTok debacle, the company confirms that it will sue the Trump Administration for issuing an executive order against its parent company ByteDance — demanding it to divest in the app's US operations.
"Even though we strongly disagree with the administration's concerns, for nearly a year we have sought to engage in good faith to provide a constructive solution. What we encountered instead was a lack of due process as the administration paid no attention to facts and tried to insert itself into negotiations between private businesses." — Josh Gartner, TikTok spokesman
As we mentioned previously, Microsoft is in talks to acquire TikTok, with rumors that Oracle and Twitter were inquiring as well. The deadline for discussions, September 15th, is imminent. It is both anybody and nobody's game, at this point.
In other Mutable news, I'm happy to report that our Yerevan team's all back in town! We've missed our CPO vachi while he's been in France since the start of quarantine. Plus, the plants are definitely happy to have a responsible caretaker back in the office…
Enjoy the last few days of August, everyone! See you in September.