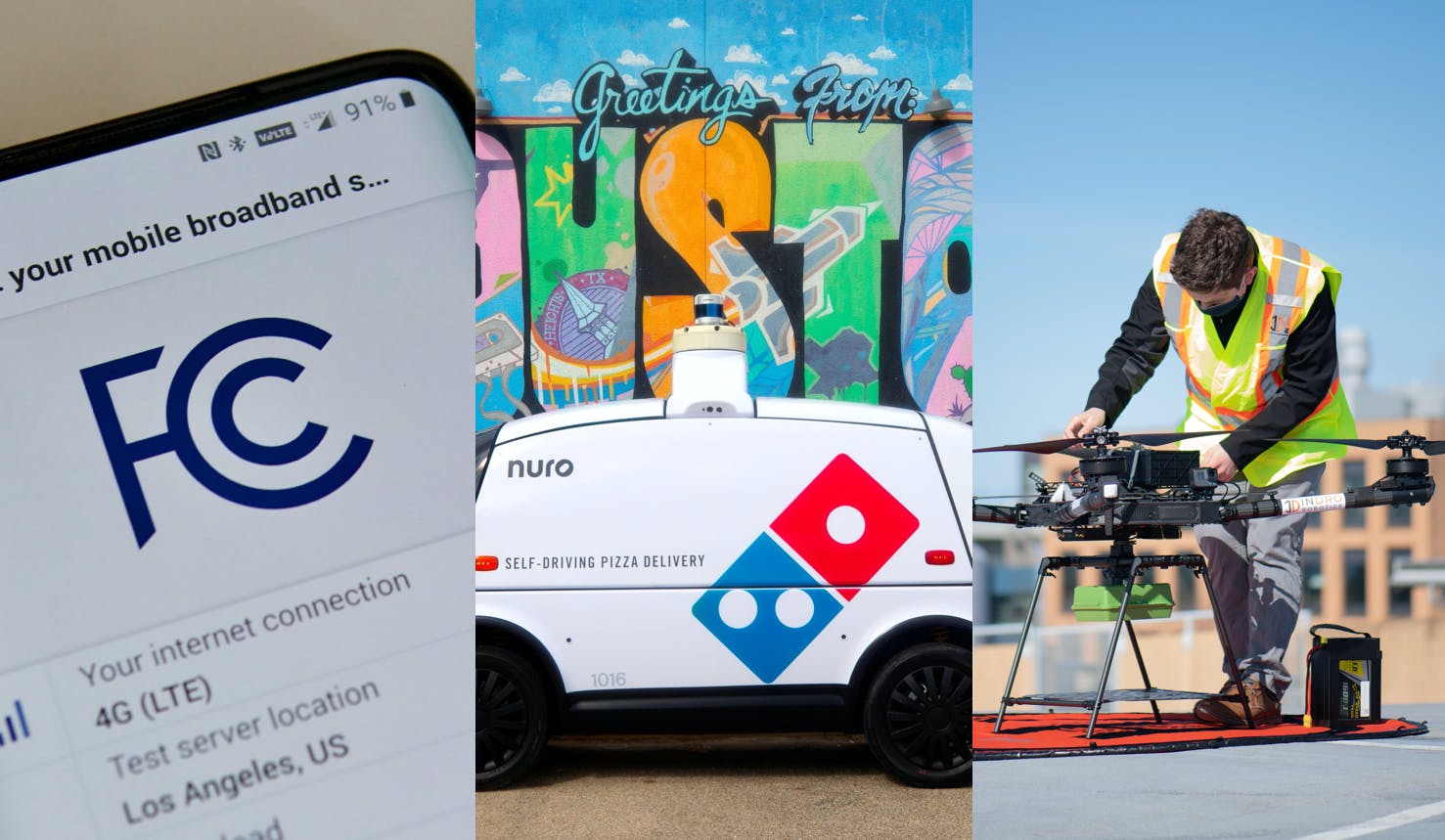 FCC broadband speed test app aims to provide more reliable service data—Dominos partners with Nuro to test driverless delivery service in Texas—Canada's first 5G drones launch on Rogers' network in Vancouver
Welcome back to another edition of the #EdgeRoundup! Let's dive straight in to last week's headlines:
5G & Edge
5G application incubation and ecosystem development is all the rage among leading telcos looking to maximize the return on their burgeoning networks. We see this in T-Mobile's 5G Open Innovation Lab, echoed by AT&T's launch of its similar 5G Innovation Studio. In Canada, Rogers Communications (which—as we covered a few weeks ago—is awaiting the go-ahead from regulators to absorb its  competitor Shaw) is partnering  with the University of British Columbia to research, incubate, and commercialize 5G applications across Canada. 
Together with UBC's MéridaLabs and InDro Robotics, Rogers for Business completed the country's first remotely piloted flight over the University's Vancouver campus using its own5G network. The announcement was coupled with news that Roger's 5G footprint is steadily growing; with new locations being set up in  Manitoba and Ontario. 
"We're focused on bringing 5G connectivity to even more Canadian residents and businesses to help drive economic prosperity in our communities. As we continue investing in our award-winning networks and Canada's 5G ecosystem, we'll begin to see more 5G use-cases come to life that will play a critical role in transforming and evolving entire industries across the country." —Jorge Fernandes, CTO, Rogers Communications
Rogers Expands 5G Network in the West and Ontario and Powers Canada's First 5G Drone Flight

In a bid to bolster both its 5G network and fixed wireless broadband service across the US, Verizon has struck a deal with tower companies Crown Castle and SBA to help expedite the deployment of its recently acquired C-band spectrum.
"The addition of C-band spectrum to our already robust spectrum portfolio means we will be able to provide the differentiated service of 5G Ultra Wideband mobility service to an additional 250 million customers and, for the first time, 50 million additional customers will have choice in their internet provider as we bring 5G Home to more places. These new agreements with our tower companies allow us to work very efficiently to pre-position all needed equipment on existing towers on our best-in-class network." —Heidi Hemmer, Senior VP of Engineering, Verizon
Verizon signs deals with Crown Castle and SBA Communications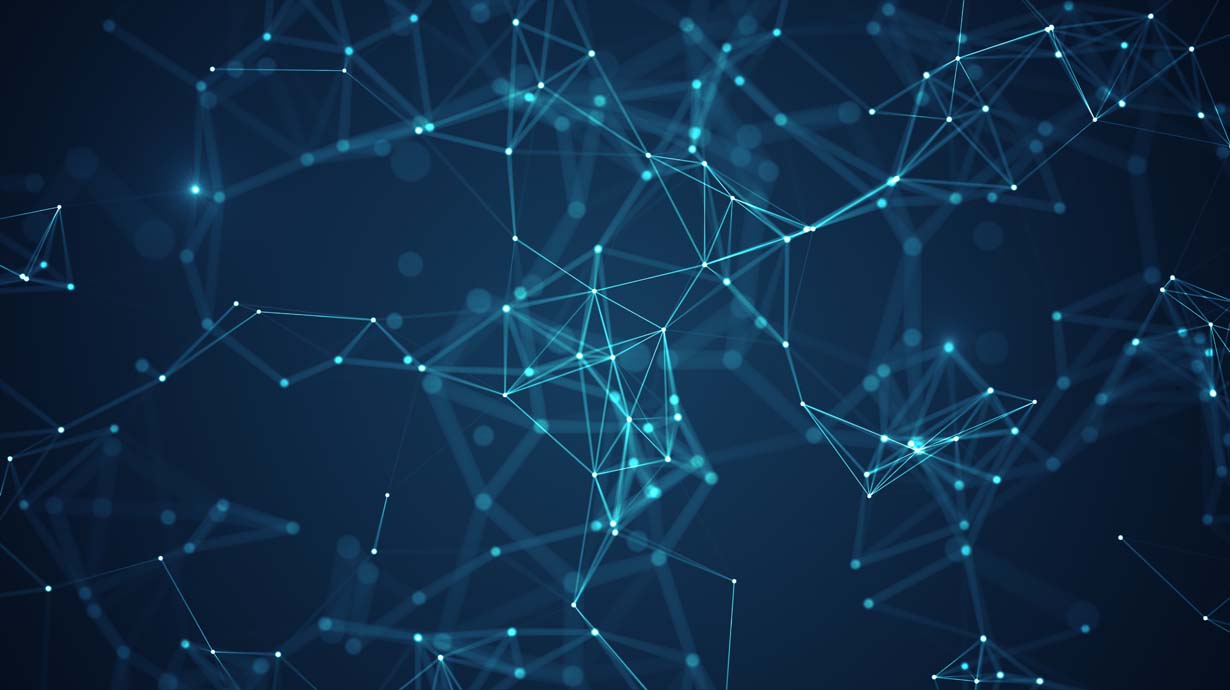 Microsoft has cemented its move into Healthtech with its recent purchase of AI & speech technology firm Nuance Communications. Collaborating in 2019 to automate clinical admin tasks such as documentation, this investment reflects the tech giant's intention to lead digital transformation in the healthcare industry:
"This acquisition brings our technology directly into the physician and patient loop, which is central to all healthcare delivery. The acquisition will also expand our leadership in cross-industry enterprise AI and biometric security." Satya Nadella, CEO, Microsoft 
Nuance was the company behind Apple's famous virtual assistant, Siri, and serves over three quarters of the country's hospitals with intelligent speech recognition, medical transcription, and imaging services. This deal will enable Microsoft to fortify its foothold as the cloud provider for Nuance's pre-existing healthcare partners.
Cable, Telco, & ISPs
Remember how consensus ruled that the FCC sucks at mapping areas most in need of better broadband? Well, turns out there's now an app for that! Or rather, there has been since 2013. Now, the FCC is taking steps to encourage people to actually use it. 
The FCC Speed Test App aims to rectify the agency's faulty data on internet speeds across the country, ultimately to help guide its broadband deployment initiatives. 
"To close the gap between digital haves and have nots, we are working to build a comprehensive, user-friendly dataset on broadband availability. Expanding the base of consumers who use the FCC Speed Test app will enable us to provide improved coverage information to the public and add to the measurement tools we're developing to show where broadband is truly available throughout the United States." —Jessica Rosenworcel, acting Chairwoman, FCC
The app functions pretty much the same as existing speed test services like Ookla, but is limited to mobile devices—a caveat that's received some flack by those concerned accessibility issues may skew the data.
How Bad Is Your Internet? FCC Asks the Public to Use Its Speed Test App
 The fight between municipal broadband initiatives and incumbent service providers has historically been pretty ugly...or more accurately, just plain sad, considering the imbalance of power between industry incumbents and communities just trying their best to deliver faster and more affordable internet. To make things worse, private ISPs have leveraged their influence to lobby states into banning municipal broadband all together. However, that number has dipped from 22 to 18 over this past year: with Arkansas, Tennessee, Idaho, and Washington all passing bills to lift restrictions (Montana tried the same, but failed). 
In Washington, the bill sponsored by Senator Drew Hansen requires municipalities to provide "evidence relating to the unserved nature of the community," but as a mere reporting requirement—they can provide alternative service regardless, just without the help of state grants. However, a competing bill requires that municipalities must prove that there are no other adequate options before moving forward with local broadband initiatives. Both will make it to Governor Inslee's desk, and cynics are worried about which one will ultimately pass. 
There's also a federal push to overturn state laws preventing municipally-owned broadband, but it's unlikely that the endeavor would make it past the cable lobby's staunch opposition. For now, grassroots campaigns will have to take on Goliath themselves. 
Victory for municipal broadband as Wash. state lawmakers end restrictions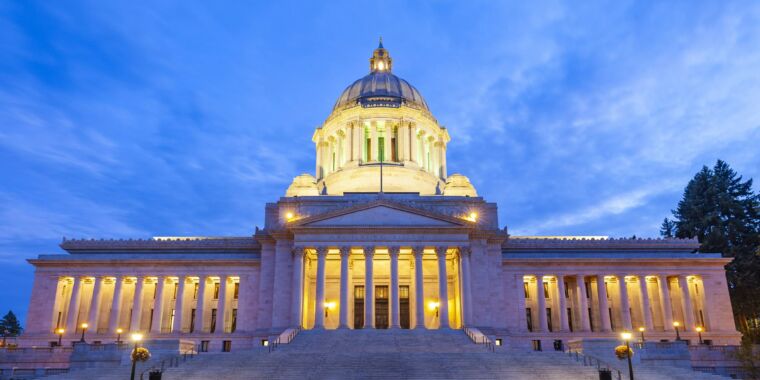 Over on the streaming front, Mexican broadcasting giant Televisa and US-based partner Univision have joined forces to take on the Spanish-language market. Televisa's stock surged 37% after the nearly $5 billion dollar deal granted 45% equity in Univision, which includes handing over content and media assets. Together, the two will leverage Univision's primacy in Spanish TV and radio to make the push online: 
"We'll have an unmatched reach across Spanish-language consumers around the world...this represents a tremendous market opportunity to accelerate growth, build on our leadership position in the U.S. and Mexico, and expand our global reach like no media or streaming company has ever done." —Alfonso de Angoitia, co-CEO, Televisa
WIll this cut into other services' subscriber base, or just expand the amount of people using streaming services in the first place? Probably both, but it will be interesting to see where the cards fall when their global offering takes shape. 
Televisa Surges After Forging $4.8 Billion Univision Deal
With the "race to 5G" flattening out, the sprint to becoming the top satellite-internet provider is ramping up. The space race has a few frontrunners, with Starlink leading the pack in terms of hype and satellites currently in orbit. Amazon's Project Kuiper, UK's OneWeb, US incumbent HughesNet, Canada's Telesat, California-based ViaSat, and European provider Eutelsat are also among the top names vying against Starlink for market share. 
If the battle's heated now, I can only imagine what we've got to look forward to:
Here are the 7 big space companies in the race to build a global satellite-internet network
Gaming & VR
For a company that makes money on microtransactions, Epic Games' latest funding round was anything but—coming in at $1 billion. Sony Group notably led the round with $200 million, followed by a long list of investors eager to get in on Epic's ascent. 
"We are grateful to our new and existing investors who support our vision for Epic and the Metaverse. Their investment will help accelerate our work around building connected social experiences in Fortnite, Rocket League and Fall Guys, while empowering game developers and creators with Unreal Engine, Epic Online Services and the Epic Games Store." —Tim Sweeney, founder & CEO, Epic Games
The company is still in the midst of its legal battle with Apple and Google over in-game payment revenues, which is expected to go to trial May 3rd.
VR developers are now able to charge subscription pricing through Facebook's Oculus Store, a natural development due to the breakout success of the Quest 2 headset and growing user base. The jury's still out on how many gamers (or avid VR meditators, or whatever else) would be willing to pay on a monthly basis.
"Together with the developer community, we're building an ecosystem of games, apps, and experiences to make VR a compelling destination. As part of that goal, our developers are expanding to new use cases beyond gaming, like productivity, social, and fitness. They're also building robust businesses around their content by way of subscription services. Now, we're thrilled to support these business models by enabling support for subscriptions on the Oculus Quest platform." —Oculus
Autonomous vehicles
Domino's partnership with Nuro may be the last nail in the pizza delivery guy's coffin, at least in their Houston-based pilot program. Now, when customers order through the pizza provider's website in the chain's Woodland Heights location, they can choose to have Nuro's R2 robot make the delivery. 
Unsurprisingly, a lot of the responses to this tweet decried the company for putting people out of work, as well as general hostility and mistrust towards the technology. The second top complaint being the need to leave one's house in order to pick the pizza up, #murica. It's interesting to explore whether people are defending the pizza boy, the check-out clerk, or customer service rep out of respect for the tradition and livelihood alone, or a more intrinsic propensity for routine interpersonal exchanges. Arguably, while between people—those types of exchanges are robotic by nature. Replacing the menial with machines may bolster more meaningful interactions, rather than render them obsolete.
Domino's Pizza pilots driverless delivery with Nuro autonomous car in Houston
Intel's Mobileye has announced that it is launching its fully-driverless service in 2023, the first company to do so at scale. Self-driving delivery startup Udelv was chosen as its partner to produce 35,000 Transporters from 2023-2028. The models are cabinless, but feature teleoperation capabilities enabling remote operators to intervene if and when necessary. Interestingly enough, unlike the aforementioned pizza guy I've yet to come across backlash about what effect this might have on taxi or even Uber drivers' livelihoods. I suppose when it comes to commuting, convenience will always take precedent. 
Intel's Mobileye will launch a fully driverless delivery service in 2023
GM subsidiary Cruise plans to expand its operation into Dubai, also in 2023. The deal with Dubai Roads and Transport Authority names the AV company the sole provider for self-driving and ride-hailing services through 2029, and is part of the city's effort to reduce transportation costs. 
Cruise to Operate Autonomous Vehicle in Dubai
The list of companies allowed to test driverless vehicles on California roads has just reached seven, with a permit recently granted to autonomous vehicle developer WeRide. While most of the company's operations are in China, this move signals interest in expanding to US markets.
With that, I'll bid everyone farewell for now. Stay safe, get vaccinated (if you can), and enjoy the Spring sunshine (sorry, Colorado)! See you back here next week.